Who doesn't love an itty-bitty widdle baby bunny or two?  You gotta check out the newly released clear stamp set that makes the cutest little baby cards.  Bunny Babies has extra baby stuff stamps to personalize these little bundles of sweetness into either a boy or a girl card.
Creating this Card:
This card design was kept pretty simple and after all the joys of coloring the bunny and blocks I wanted the rest to be a bit cleaner in appearance.  Because its sometimes hard to find the perfectly matching cardstock I decided to just color my own.  Using the Bold ABC die set I die-cut out the word B-A-B-Y and colored the letters to match.
The word baby was then placed on a popped up white panel with the "bundle of joy sentiment".  The main image was popped up of a dry embossed dot background.  I added the star and boat to compliment the image.
See I told you it was easy.
I know you will love the whole release this month so be sure and check it out HERE.  See you back here tomorrow for some more card and color inspiration!!
Bold ABC die set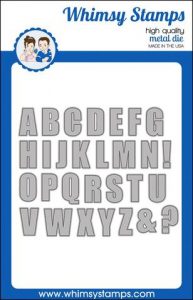 Copic Markers:
W00 W1 W3 W5
Y38 YR68
R81 R83 R85
C00 C1 c3 C5
B0000 B000 B00 B02