When You love Some Bunny…
This new die is super cool.  Which one you ask?  Well they all are!  The Stamp Doctor has done it again!
This is a cool box that fits A2 cards and would make the perfect gift box for gifting a handful of cards.  I took it a step further and created a carrot window candy box, die cutting the top.   I thought this would make the perfect Easter gift.   Who could resist candy from a funny widdle bunny-wabbit?

Have you seen me create with this bunny before?  If not be sure and check out the post HERE.
Wanting the bunny to match TSD Easter #1 paper, I decided to die cut the Bunny/bear out of white cardstock and color it up in cheerful yellow colors.  Check out how well the little Chocolate bunnies and ZigZag Border dies compliment this box.  I finished it off with a bit of green pop in the form of the Grass Top.
You can find all the parts to make this box at The Stamp Doctor.  Better yet I have a special 10% off code for you to use!  It is good on all non-sale items.  Use code Just4FunCrafts at checkout.
The Stamp Doctor:
A2 Box for Cards
Carrot Side Pop die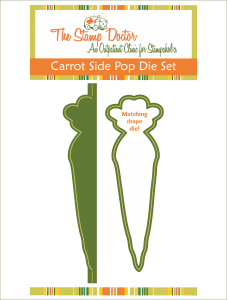 Copic Markers:
Y13 Y15 Y17
E37 E39 E49
R11 E04
C1 C3