Today I am showcasing a card using a digital stamp from Whimsy Stamps called Penguin Ray.  This special stamp was designed by Crissy Armstrong who's brother is fighting cancer.  This disease has taken so many of our loved ones.  I always rejoice when I hear that someone has fought the battle and won!
The proceeds from the sales of this special digital release will go to Make-a-Wish in Rays honor because every little "Ray" of hope is encouragement that the battle can be won and they are not fighting alone!
Card Design
In this card I used the Center Step card base by The Stamp Doctor and I love how you can buy the layer dies making it so convenient to create the different sections.
I colored "Penguin Ray" in the blues because he isn't feeling well so I am sure he is feeling blue.
For the fun little cluster of goodies on the bottom right I used a Make it Crafty chipboard sentiment and the skeleton die from the die set Dracula's Coffin.  The little bandaid tucked behind the skull was made using the long pull piece from the No-See Kinetic Basic dies.  In order to make the bandaid die cut it twice and cut off the end without the holes and then layered the two pieces, overlapping in the center and place a smaller piece over the seam.  After I colored it up with my Copic Markers, I textured it with a texture rag and rubbing alcohol.
Being a huge fan of button clusters and have enough buttons to last a lifetime, I added some to the card for more texture and dimension.  A little pink pearl or two was added to complete the card.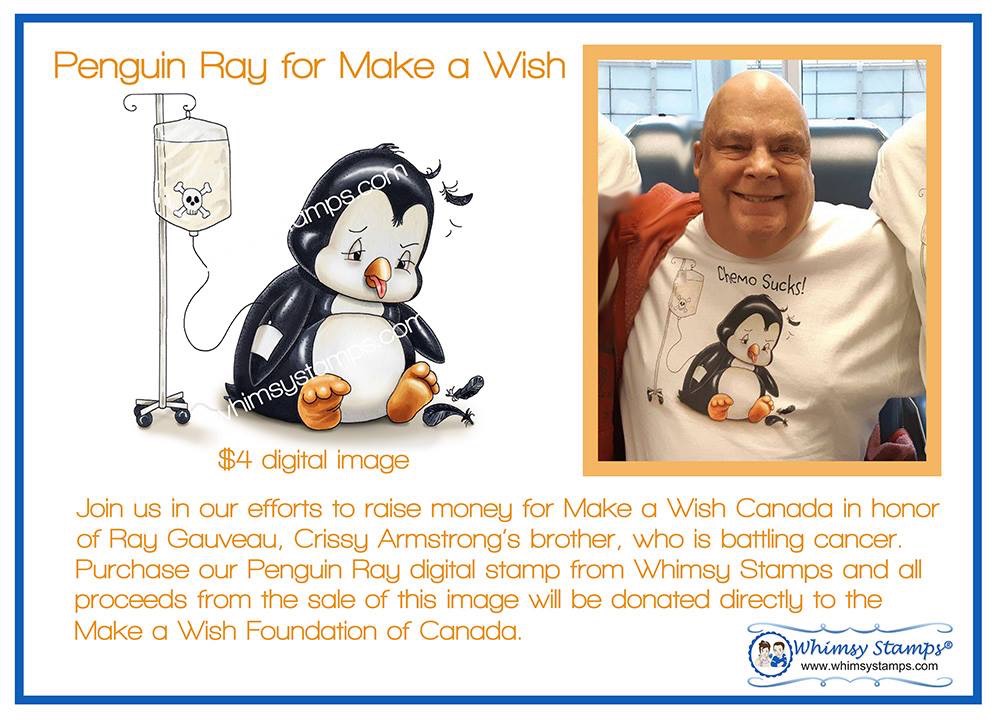 Be sure and grab your digital stamp because it is the perfect image for a friend feeling a little blue and it also goes towards a great cause.
Keep fighting Ray!  Keep fighting!
Where to Buy
Notched Square die set
Make It Crafty (Whimsy Stamps) Chipboard
No-See Kinetic Basics die set
Other Companies:
The Stamp Doctor – Center Step Card
(Use Just4FunCrafts for 10% off non sale items)
 – Jenn Dove