Aren't you painterly today?  I really love this Paint Brush Strokes clear stamp set.  You can do SO MUCH with it.  For this card I created a rainbow paint-stroke background.  So easy, even a dragon can do it!  I really am enjoying making my own background paper, and Whimsy Stamps has a large array of background stamps to choose from.
Creating this Card:
Okay, I know I have said it at least 100 times, but come on, some of you haven't listened.  I understand you have been stuck with "I need to use what I have first" mentality, but sometimes a change is best for you.  Catherine Pooler has the best stamp pads in my opinion, different from other stamp pads.  Most ink pads have a felt surface, but these are foam giving more surface flexibility, a perfect impression every time.  This water based ink (I know this because it washes off the stamp nicely), is easy to use. You can buy (and I recommend it, refills to go with the ink pads too.  The color range is amazing too.   You can use it with a water brush for painting, or easily for stamping and so much more…okay, back to the card.  You can check them out through the link below.
Did you see the canvas, I tried to mimic the background.  After coloring up the image from Dudley Art, I hand cut it out.  I stamped one of the stamps using multiple colors to create the brush-stroke looking background and adhered it to a black mat, then onto the card.  I like using black to "frame" things.
The OMG word and shadow die was used at the image base, and one of the sentiments from the set was then added.  Really its a simple layout, but makes a statement with the combination of colors I used.
Dudley Art clear stamps
Paint Brush Strokes clear stamps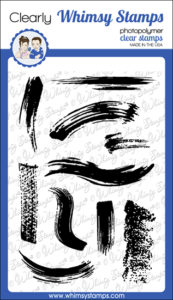 OMG! Word and Shadow die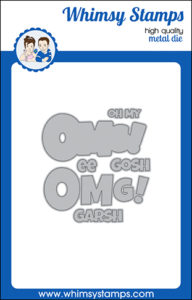 Catherine Pooler Ink Pads
Copics:
C1 C3 C5
W1 W3 W5
YG03 YG17 YG67
E31 E35 E57
Y08 Y38 R24 R29
B91 B95