Ready for a handful of silly mushrooms?  This card is perfect for any fun-gi or gal.  Okay, that was a bit mushy.  I know you are thinking that there is not mush-room in your craft room for another stamp set, but you might want to make room for one more.  This stamp set is part of the latest Whimsy Stamps release, and is made for a little giggle.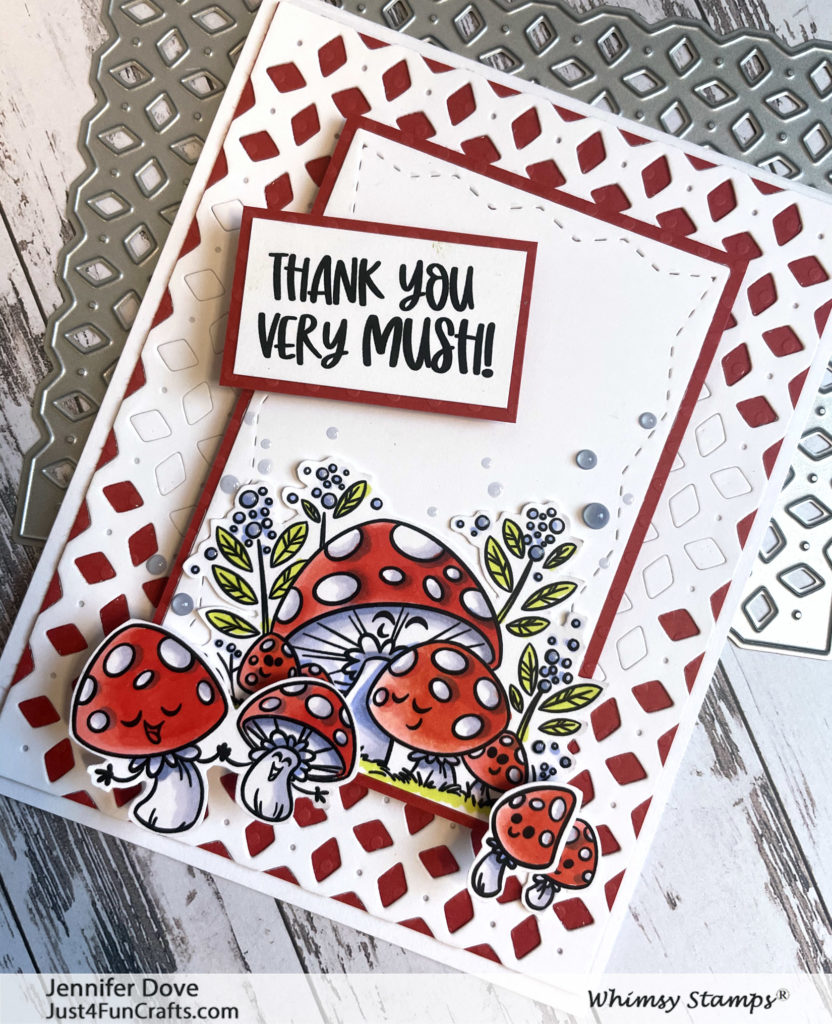 Creating this Card:
Okay, I had a little mishap that worked out perfectly.  In card making I have found a bit of flexibility works well when designing.  The background Lattice A2 die didn't completely cut out due to the fact I didn't have the "sandwich" tight enough.  So instead of redoing it, I keep it as is.  Not all the little triangles cut through, and that was just perfect in the end.  It gave a place for our eyes to rest, instead of so much red and pattern on a super busy card.  See how that worked out?
After layering the lattice onto the red cardstock, then onto the card base, I popped up a white Zig Zag Stitched Rectangle layer (matted onto red for separation).  The images from the Mushroom In My Heart stamp set was then colored with my OLO alcohol markers, and arranged onto the card.  In wanting to break up the white a bit I decided to add dimension using my Steel Blue Transparent Nuvo Drops.  Because they are transparent it gave dimension without distracting from the focus.
I think it's a super fun card, don't you?
Mushroom In My Heart clear stamps
Lattice A2 die
Zig Zag Stitched Rectangle die set

Nuvo – Steel Blue Transparent Jewel Drops

OLO Marker cOLOrs
BUY OLO Markers HERE
R0.1 R0.3 R0.4 R0.5 OR2.5
C-G1 C-G3
BV2.2 BV2.3