Did you love the post of the rainbow card?    You will love this card too!  If you haven't check out the rainbow card, you can find it here with a YouTube video showing all the dies required to create it.  I am having so much fun with this new Magic Wheel die!
I went "above and beyond" for this moon card, showcasing the Magic Wheel die, a fun moon stamp and the Space Ships dies.  I love to see the Kinetic card in action.
Creating this Card:
Okay, there are a lot of parts to this fun card, so follow along closely.
I started off by using a few of my Catherine Pooler ink pads, and the mini Blending Brush to create the background paper.  I love the CP ink because they are soft and juicy and you do not need two fight the ink.  They are perfect for blending, and also have a LARGE range of colors, with refill option.
Once the background was completed I adhered its to the card base.
I die cut the large circle from the Magic Wheel kinetic die set, and stamped it using the Moon background.  I also stamped another piece of paper with the moon image.  I used a water brush and the same color ink pads to color the moons.  The extra moon was hand cut out, and applied to the bottom of the card.   The other moon is the top piece of the Magic Wheel.  I die-cut the remaining pieces for the kinetic action, and stamped Magic Wheels sentiment from the clear stamps set on the medium piece.  All the pieces were assembled and popped up onto the card front. You can refer to the video for assembly instructions.   After die cutting the space ships, and small planet, I quickly colored them using my OLO Markers.  The large spaceship and planet was added to the "turn" handle of the kinetic moon.
I wanted the large sentiment Old Fart to match, so I die-cut it twice and colored one of them up.  the colored pieces were layered it onto the white sentiment in order to stand out from the moon.  This was adhered to the lower moon with the small rocket popped up out of the way of the kinetic Magic Wheel.
I Posted a YouTube Video.  Check out this post HERE!
Magic Wheel die

Magic Wheels clear stamp set
Space Ships die set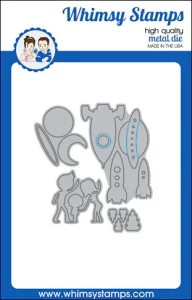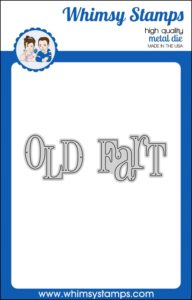 Moon rubber background stamp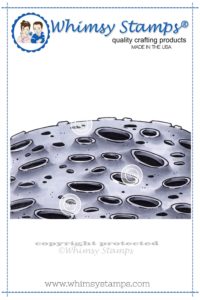 Whimsy Stamps Blending Brush – Small

Catherine Pooler Ink