Do you love flowers as much as I do?  This simple, yet elegant stamp set is one of the latest from Whimsy Stamps.  This is a fun way for you to practice coloring transparent objects.  When coloring this image, stamping the image in a light color will give you a better look for transparent.  In order to create the rounded-petal look on these flowers,  you place the darkest color on the outer portion of the petals, as well as the inner portion and blend it out.  I love the results of the coloring, even with the loose blend using this yellow color combo.
Creating this Card:
With the simplicity, and style used on this card, and you can easily replace the image, and pattern paper, on the layout to create a totally different card theme.
The NEW Revealer 1 die makes this card easy to create as it cuts out the center opening, and you do not have to line up two separate dies.  The first thing I did was to die-cut an A2 size piece of white cardstock using the Revealer, and then I ran the pieces through my die-cut machine using the Slimline embossing folder Wave Lengths.  These two pieces were then layered on top of the striped blue paper from the Buttercup Slimline pattern paper.
The beautiful Flower Wishes clear stamp set was used as the featured image for this card.  Included in the set are some single flowers, as well as two different jar and flower choices.  The image was colored, and hand cut out (because I didn't have the outline die), but Whimsy has the Flower Wishes Outline die available in the store if you prefer.
The sentiment from Simple Sentiment Strips clear stamp was stamped in black, and then added to the card using the Simple Sentiment Strip die set.  This die set allows for the center to be popped up easily, and fits perfectly using the different die size options.
Flower Wishes clear stamps
Flower Wishes outline dies
Revealer 1 dies

Wave Lengths Slimline embossing folder
Simple Sentiment clear stamp set

Simple Sentiment Strips die set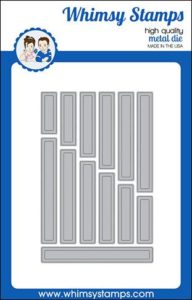 Buttercup Slimline paper packet
MarkerUniverse.com
Coupon code DOVE10 for 10% off your order
Sketchmarker Brush Pro alcohol markers
G51 52 32 33
Y51 52 53
WG1 3
B23 24 25