I love the name of this new stamp…Birfday…not birthday…it rolls off the tongue so much nicer don't you think?  The new released rascally dragon is at it again, and here to help with the celebrations.  I think this one might have used a touch too much helium in those balloons.
I thought I would share one last card with you before I dash off to the Jenn Dove's Boot Camp (where I teach, host and we color with our alcohol markers for 4 days straight), here in Arizona.  The big shebang is about to happen, so I might just be missing in action for a bit.   This retreat takes all my energy and time, but I will be back in a week or so to show off more fun cards.
Creating this Card:
This is another fun white on white card, and you definitely want to make sure your die-cut plates are clean, or add a little printer paper over top of the cardstock, because if not careful you will dirty your whites.  For this card I stamped, colored and hand cut out the dragon.  He was popped up over the layers.  To create the layers I used the scallop die from the Quilted Rainbow Inlaid die set, and adhered it right down to the card base.  The next layer was popped up, and I used a stitched rectangle die for the layer.  After cutting a bunch of clouds from the die set Up in the Clouds, I alternated them with different thickness of foam pop up tape. and adhered to card front.  The last thing was to add the sentiment, and then the card was complete.  Crisp, white and fresh!
See you back in a week or so, full of my regular crazy.  Be sure and check out the link above if you want to join one of my events in the fall of 2021.  We have a limited amount of seats left for these huge events.
Birfday Party Dragon clear stamps
Quilted Rainbow Inlaid die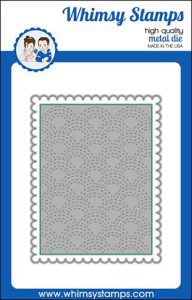 Copics used…..ummmmmmm……don't remember….sorry! 🙂