Can we say HILARIOUS?  Dustin Pike does it again and this is another one of those sets that wont last long in the Whimsy store!  I.Just.Can't.Stand.It!!!!  I used every image to create a card out of this set…and more to come!  This set also comes loaded with slang words that are super fun.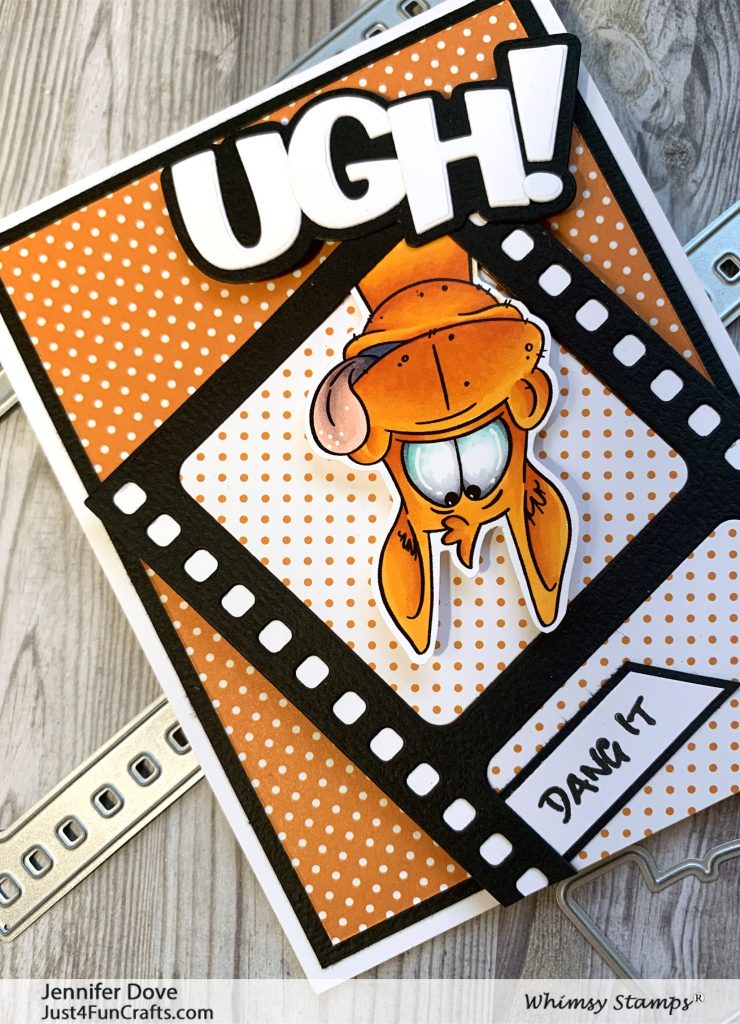 Creating this Card:
This is actually a simple layout to create if you have these cool dies that I used.  I started the card by adding a dot paper to a black layer of cardstock, and adhering it to the base of the card.  Next, I took the the Film Strip die and cut out a piece of black cardstock, as well as the white pattern paper with orange dot.
Any of the images from this new set would have worked for this card, but I decided to use the upside-down donkey image.  After coloring up the image from Wonkey Donkey, I hand cut it out.
The donkey was then placed under the edge of the film strip and then the orange dot paper was adhered in the opening of the film strip.  Before popping the film strip up off the base of the card, I put two thin strips of white paper under the stripe of small open holes on either side of the filmstrip, so you cant see through them.
The sentiment on the bottom is from the Wonkey Donkey set, and was simply layered onto a small black mat.  The "UGH!" is a cool Word and Shadow die from Whimsy stamps, and was popped up on the top edge.
Wonkey Donkey clear stamp set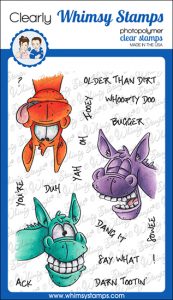 Slimline Film Strip die

Ugh! Word and Shadow die

Copic Markers:
C1 C3 C5
R11 E04
Y38 YR04 YR07
BG32
White gel pen