Oh Gnome you didn't!  The release of these gnomes sold out in one day!  But I am sure you can see why.  Don't you fret, you can grab yours on through the preorder link, so when they arrive you will be the first (or is it now the second) to receive them.  They are absolutely adorable, and so popular these days!
Creating the Card:
This cute card was a pretty simple creation to make.  It actually carries a similar layout to yesterdays card with only slight variation.
Using some cool stripe paper from The Paper Collage (their custom paper, info below), I layered it on a light blue cardstock mat.  This layer was adhered to the card base.  I cut down another piece of paper in plaid and added a little strip of dot behind it.  This layer was then adhered to the red striped layer.
A Zig Zag die from The Stamp Doctor was used to create the fun zig zag border, and then layered onto the red dot paper and onto a blue mat.  I popped this up onto the plaid paper.  After coloring the image and hand cutting it out, I placed him on this strip using foam pop up tape.
I finished the card off by adding one of the sentiments from Gnome For the Holidays, popped up behind the main image.
Cool huh?  Be sure and get on that preorder list!
Gnome for the Holidays clear stamps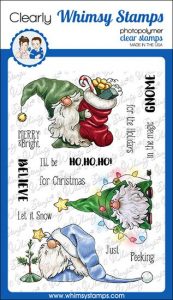 The Stamp Doctor – ZigZag Border die set
10% off CODE – JUST4FUNCRAFTS
The Paper Collage Custom Stripe and Plaid 12 x 12 pattern paper – Contact to pickup or ship
Store Address: 16671 N. 84th Ave, #130, Peoria, AZ 85382
Phone: (623) 398-8300
Hours:
Tuesday / Wednesday / Thursday / Saturday: 10AM-4PM
Friday: 10AM-4PM
Copic Markers:
R24 R29
E50 E51 E53
Y15
W1 W3 W5
B000 B00 B02
C1 C3