Another fun and happy card coming to you today, using some delicious (or should I say scrumptious) products.  This is designed using an older release , but still a goodie.  I combined the main image with two different background stamps.  Creating my own pattern paper using background stamps is a fun way to make your own unique cards.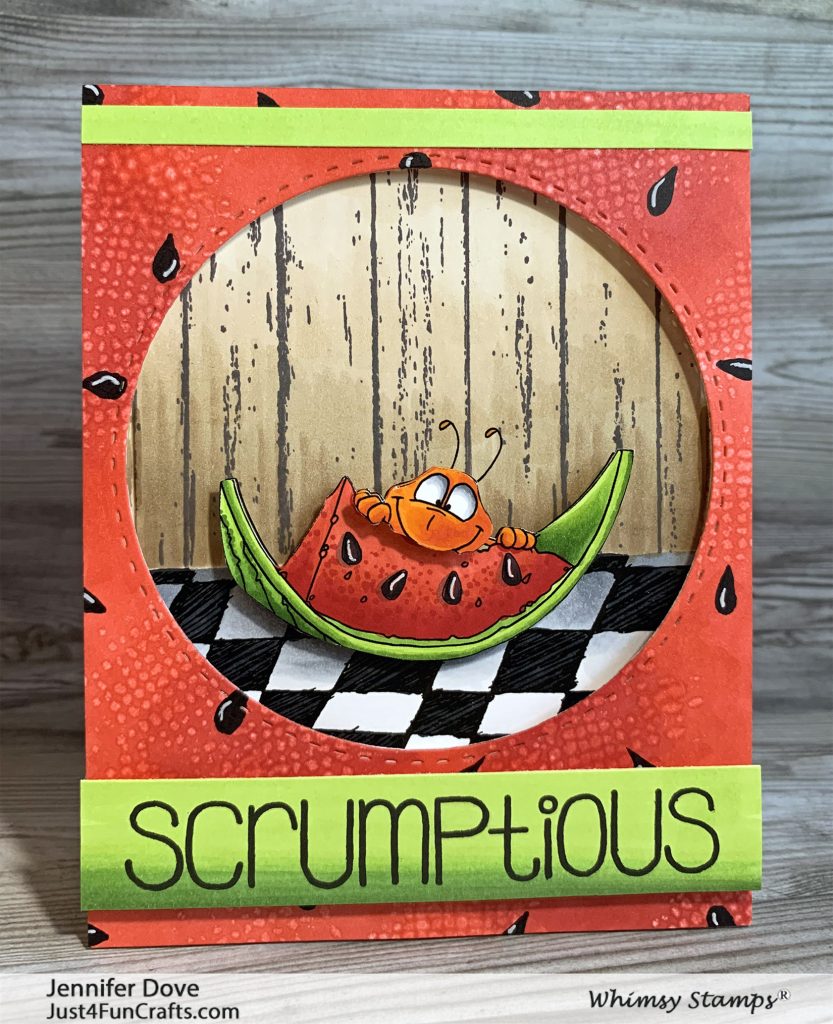 There is a bunch of different colored elements for this card, so hang with me for a minute (or three).
Creating this Card:
First Layer:
This backdrop panel was created by using these two stamps, Checkerboard Doodles and Farmhouse Shiplap, both were stamped on an A2 sized white coloring cardstock.  By stamping the checkerboard stamp first, and then masking it off, created a nice tablecloth look once the Shiplap was stamped.
In order to give it a wood-like background, the brown markers were used on the top portion of the background.  A little gray was also added to the lower portion as a shadow, but not until after the main image was added.
Second Layer:
After stamping the image from Ants at a Picnic two times, and coloring them up, I cut them out.  The lower portion using the whole image is adhered to the card layer, and then a second one is popped up on top.  In order to make it pop just a bit more, I  colored and cut just the ants head, and popped then popped that up.
Third Layer:
Using a nice circle die gives the card a nice framed look, so for mine I used the Pierced and Stitched Circle dies.  This layer was colored with red markers, and then textured with a texture rag and Blending solution.  If you want to give it a more watermelon look,  you can add "seeds" by drawing little tear shapes in black and adding a little white highlight to them.
A watermelon isn't complete without a rind, so I stamped the word Scrumptious from Polka Dot Pals Kezia clear stamps, and colored it with my green markers.
Below are the products I used to create this card:
Ants at a Picnic clear stamps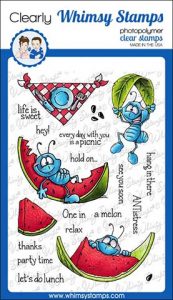 Checkerboard Doodles rubber stamp

Farmhouse Shiplap rubber stamp
Pierced and Stitched Circle dies
Polka Dot Pals Kezia clear stamps
Copic Markers:
YG03 YG17 YG67
R24 E29
YG04 YG07 YG09
C10 checkerboard
C1 C3 C5
E41 E42 E43 E44 background