These sweetest hedgehogs are now back in stock at Whimsy Stamps, so grab this set while you can!  In this set you will not only find this in-love and happy duo, but also a fabulous stork and baby.  What a versatile set this is.   I decided to create a thank you card.
Creating this Card:
Another fun card to create with multiple layers for dimension.  A window into the woods, but this could have been created into a shaker card.
After creating the frame (you could use two Wonky Stitched Rectangle dies taped together), I die cut the tree from the No-See All Seasons die set.  This versatile tree die (for all seasons) can be left as is or colored up, so that is just what I did.  Using my alcohol markers I created a wood look.  This layer was then adhered to the front of the frame, and a second one was created for the inside.   The frame was popped up onto a sky background and layered onto the card base.
I chose the sweet hedgehog duo for the main image, and after coloring them I hand cut them out and popped them up off the front of the card frame.  The stamp set also comes with flowers, so I used them to bring in some more color to the card.
I use Beaucoup Bouquet Sentiments stamp a lot.  This stamp set was used to create the sign.   I colored and then die cut it out using Wonky Stitched Rectangles, and then hung it off the tree.
All the products are currently available if you want to stock up on baby, congrats-to-the-parents and grandparents, and thank you cards.  Would make a great gift set!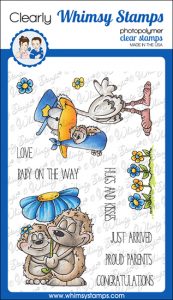 No-See All Seasons Tree die set

Wonky Stitched Rectangles die set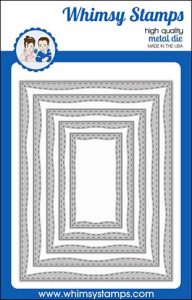 Beaucoup Bouquet Sentiments stamp set

Copic Markers:
B21 B24 B26 B29
W00 W1 W3 W5
R11 E04
E40 E41 E43 E44
C00 C0 C1 C3
Y15 Y19 Y38
YG03 YG17
E31 E35 E57
C10