I am sure a few of you are gearing up for the holidays, so today I give a shout-out to all those Halloween lovers.  Check out this new die Spooky Large Word die that was just released.  I combined it with a fun Dustin Pike Halloween set that went perfectly with the die.
This was a fun card to create and has a very cutesy vibe for what can be a spooky holiday, bringing in the  silly side of it.

Creating the Card:
The process for creating this card starts out with stamping the Scratchy Plaid background stamp onto white cardstock in black ink.  I inked the edges of it and placed it onto the card base.  The Spooky Large Word die was die-cut twice, once in black and another in white and inked, and then adhered together.   This was then popped up off the front of the card at an angle.
Here is a fun use for the Grass and Cloud Edger dies if you already have them.  Use it upside-down for spooky blood drips…that is what I did for the image base.  Once that was popped up I colored in the images from the Going Catty clear stamp set in some cheery bright festive colors, and then cut them out.  Done!
Going Catty clear stamps
Spooky Large Word die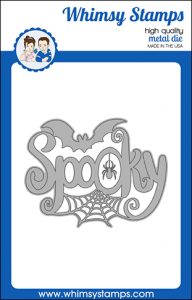 Grass and Cloud Edger die set
Scratchy Plaid background rubber stamp
Copic Markers:
V12 V15 v17
Y38 YR02 YR07 YR68 YR09
YG11 YG03 YG17
C00 C1 C3 C5 C8 C10
E93 E04
E31 E34 E35 E57 E59