Okay here is a little fun using Polka Dot Pal Leland, combined with the new Cowpoke clear stamp set that I showed off yesterday.  It's dress up time for this little guy.  A lot of fun elements were used to create this scene.  Be sure and check out the details below.  I would love to see you give it a try too.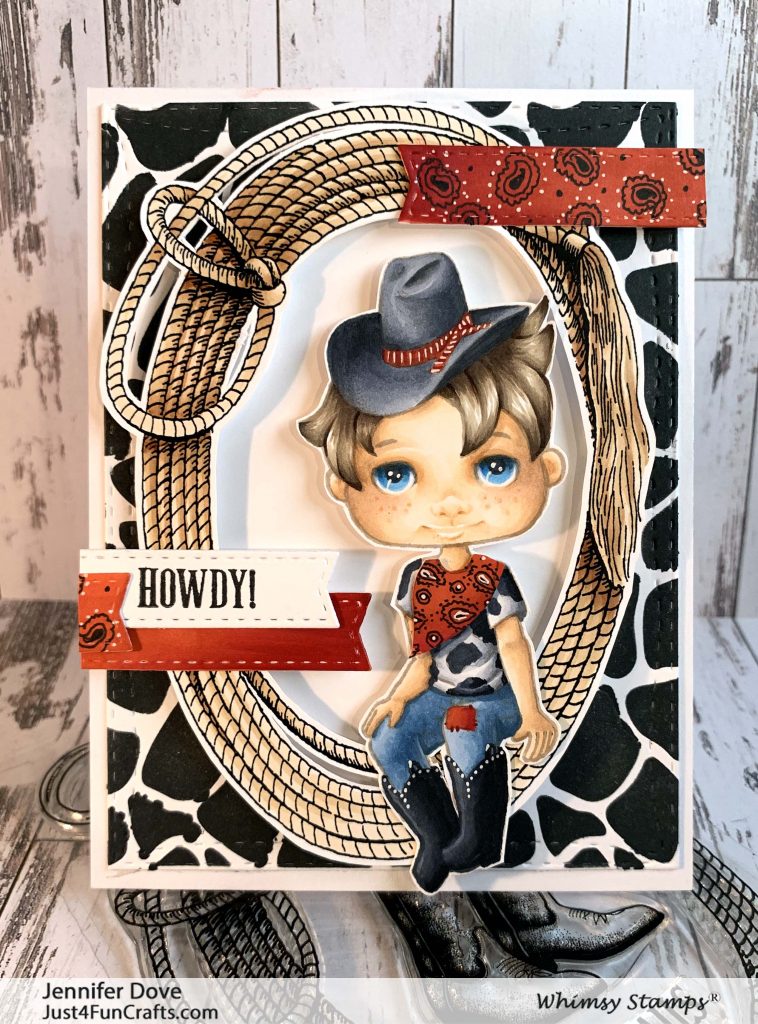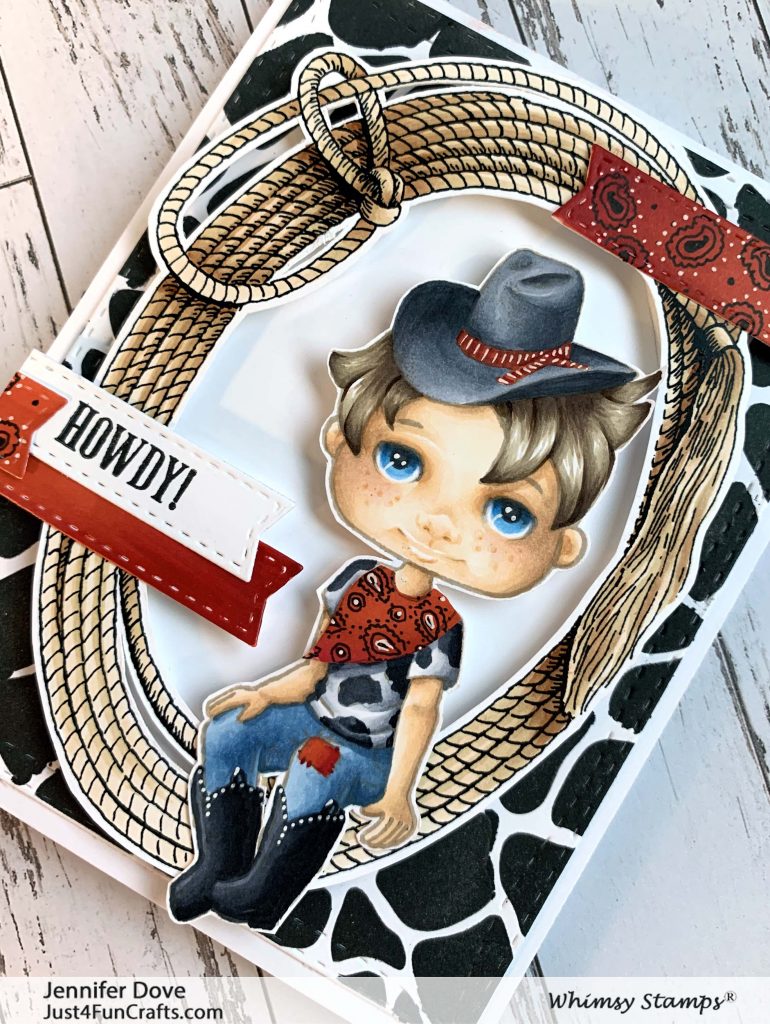 Creating this Card:
Creating the Masks:
I had to think this one out a bit, so I will add the info here so you do not have to do the thinking.  Using post-it notes I stamped the hat and hair, and then cut them out to become the mask.  If you don't know, the "mask" isn't something you put on your own face, it is to protect the final image from getting extra lines.  When you stamp over the mask it gets the unwanted lines and then when removed, your image is ready to color.
Stamping the Image:
Okay, with masks ready get your paper that you wish to color on, and stamp the hat up higher on the paper.  Place your mat over the hat you just stamped out.  Next you will stamp the hair out, part of this will overlap the hat.  Now place the mask over the hat and hair.  Using the clear stamp of Leland you will stamp over the hair mask.   I used Memento Toffee Crunch stamp pad because it is a light color but not so light my eyes hurt to color the image.  Remove the masks from the image and you are now ready to color.  Refer to the photo above for placement if that helps.
Coloring Details:
For this card I got to do a little creative color placement by adding the facial features and turning his shoes into cowboy boots.  I added cow spots to his shirt as well.  In the end I decided he needed a scarf around his neck, so I colored it separate and then cut it out and added it to the image after I was done.
I know the hat was a little small in perspective to Lelands head,  but I thought it was still cute…almost like he was playing dress up.  I can't forget I colored the rope and once cut out is ready to be a frame.
Card Assembly:
Assembling was pretty easy once all the pieces were cut out.  Using the Giraffe stencil I inked up a background.  I found an oval die the fit the rope frame and die cut the center to reveal the white area in the middle and then popped up the rope frame over it.  Leland was added to the rope and some foam pop-up tape placed under his head to make his sturdy.  The last thing was to add the sentiment using the Quick Strip dies.  HOW FUN IS THIS CARD?!!
Cowpoke clear stamp set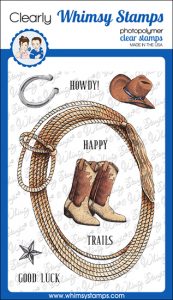 Polka Dot Pal Leland clear stamp set
Giraffe Stencil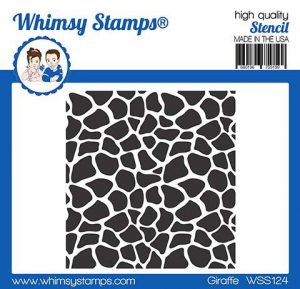 Quick Strips die set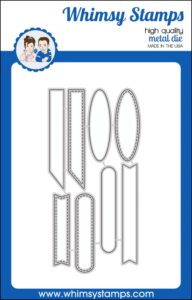 Copic Markers:
E50 E51 E53 E55 R11 skin
B12 B14 B16 eyes
C1 C3 C5 eyes C7 C10 boots/hat
R08 R29
B91 B95 B97 clothes
E31 E35 E57 rope