Do you need a day full of color because you are in a slump?  Let's add some rainbow to your day!  This sweet girl Mason and her shy unicorn are here and newly released.  As of today, they are here to brighten your day.  I love these clear Polka Dot Pal sets and for this one I even stamped the add-on face that comes with the stamp set.  You can also now find some digital scenes using the Polka Dot Pals.  Be sure and check them out HERE if you prefer not to stamp and mask.
Creating the Card
I created this little scene with Polka Dot Pal Mason, wanting her hair to be rainbow, but not in the bold colors you would expect.  The scene was stamped in no-line (using a very light colored ink pad to stamp).  Before diving in I practiced the colors that I thought would blend onto scratch paper, so this helped me to decide what would work well together.
Coloring the rainbow to match her hair was easy.  By starting with white paper and die-cutting out the large rainbow using the Array of Rainbows die set.  Next I blended the colors onto the rainbow just like I would do if coloring in an image.  Nothing special had to be done other than hold the pieces in place.
All main rectangle pieces were die cut with the Card Builders Window die set and layered onto the black paper and make the white stand out like a frame.
The little stars from the rainbow set were also used, and the sentiment is another fun chipboard piece that can be colored on to compliment the image.  You can find some here at the Whimsy store.
You can find all the bits and pieces are linked below.  If you are interested in creating this, remember at this time of life stock is limited and slow to restock, so grab it now while it's available.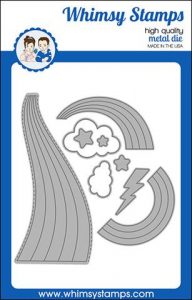 Array of Rainbows die set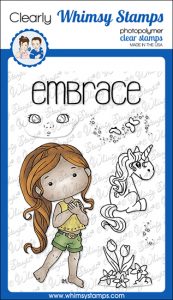 Polka Dot Pal – Mason clear stamps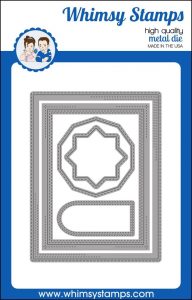 Card Builder Window die set
Copic Markers:
C1 C3 C5 C7
Pants B91 B95 B97
Face E50 E51 E53 E55 R11
Eyes B14 B18 C1 C3 C5 N10
Grass YG03 YG17 Yg67
Hair RV34 RV66 R59 BG45 BG49 YG03
BV23 BV25 BV29
R05 R27