A little sand in the crack and Octopus on your head, the delights of beach life.  This clear stamp set Hippo Beach Fun says it all.  A little something for everyone, the lounger, the surfer and the water bug.
For this card I used some of my favorite dies too.  Be sure and check them out below.  So many uses for these cool dies.
Creating this Card
A lot of times we use the dies to create the die cut and pop that up, but what if we used the negative space on a card front just in the perfect spot to be used as part of the card design?  This is how I used the sun from Up in the Clouds die set.
Once the sun was cut out of the dry embossed layer,  I popped this layer up off the card base because it gave it more dimension.  You can see I used the circle frame from the Shaker Maker Combo to create a ring, and then put a layer of the Lattice A2 directly under it too resemble a net.  I get a lot of use out of the circle frame, sun and clouds as well as the waves if you haven't noticed.
Because I wanted to add more dimension to the card I used the Kinetic Waves.  With the sun being on the left I put the other elements on the right for balance.

Shaker Maker  Combo die set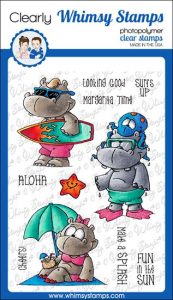 Hippo Beach Fun clear set

Lattice A2 die

Up In The Clouds die set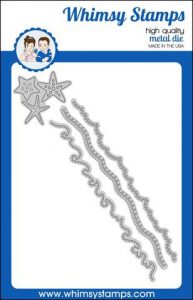 Kinetic Straight Waves die set
Copic Markers
RV34 RV17
BG32 BG15 BG49
C1 C3 C5 C7
B63 B66 B05
Y35 YR04