Well I do believe we have had an extraterrestrial visitor!  This funny alien named Bob thought he would come for a visit and brought his atmosphere with him.  I thought I would use some newly released images, Atlas Jar and Over the Moon clear stamps were perfect to pair up with some of the past releases.  This card wasn't a "whip to up" card but was so satisfying to create.  Details are below.

Creating the Card
The quick part was taking a white piece of cardstock and creating the hilly background.  Each hill is darker at the bottom and lighter at the top with some texture using burlap and alcohol.  Okay let's set that piece aside.
The next part of this fun card is putting Bob from Over the Moon stamp set in the Atlas Jar.  Yes, Bob is the alien.  I stamped all the combined images in a lighter color so that most of the lines would disappear.  First the Atlas Jar was stamped on white cardstock.  Next the Moon Background was stamped in the lower portion fo the jar, and lastly Bob was stamped on the moon.  Don't worry about stamping beyond the jar as it was all cut out when done.
Coloring the Jar
Okay, let's get to the crazy coloring.  I colored Bob in fun alien greens and the moon in my favorite purple-grays.  I created a galaxy within the jar.  Pre-thinking out the card a bit I knew I was nesting it amongst grass so I added a bit of green to the lower portion of the jar to be a reflection of the foreground grass. Completing the main coloring of the image allowed me to add the stars with a white gel pen and the highlights over the image where I wanted the jars highlights to be.
Assembling the Card
The foreground of the card was created by stamping the mushrooms and grass from the Polka Dot Pals – Imogen onto some white cardstock and then coloring and cutting it.  I will add some extra flowers and the lady bug later.  You can easily add dimension by simply die cutting out a background and popping up the center portion.  The jar was popped up on the inner layer and then once those pieces were assembled the mushroom piece was placed on the front and the small flowers and the little ladybug were then added around the image.
Products Used:

Over the Moon clear stamp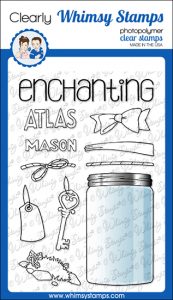 Atlas Jar clear stamp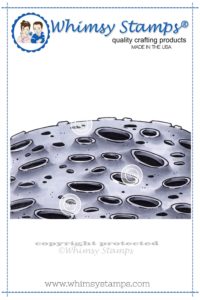 Polka Dot Pal – Imogen clear stamp
Oh gosh, I did it again…too many colors to guess, and the card notes are nowhere to be found.  My bad!  If I find them I will update for you.