I'm back!  My Boot Camp (formally known as Copic Boot Camp, now Jenn Dove's Boot Camp), was a huge success and we all walked away tired and inspired.  Now it is time to get back into the groove.  Today I wanted to share with you a card I created using two of the new rebased stamps from Whimsy Stamps.    Using Elegant Frames clear stamp and Polka Dot Pal Khadija, I combined them to make this fun shaker card.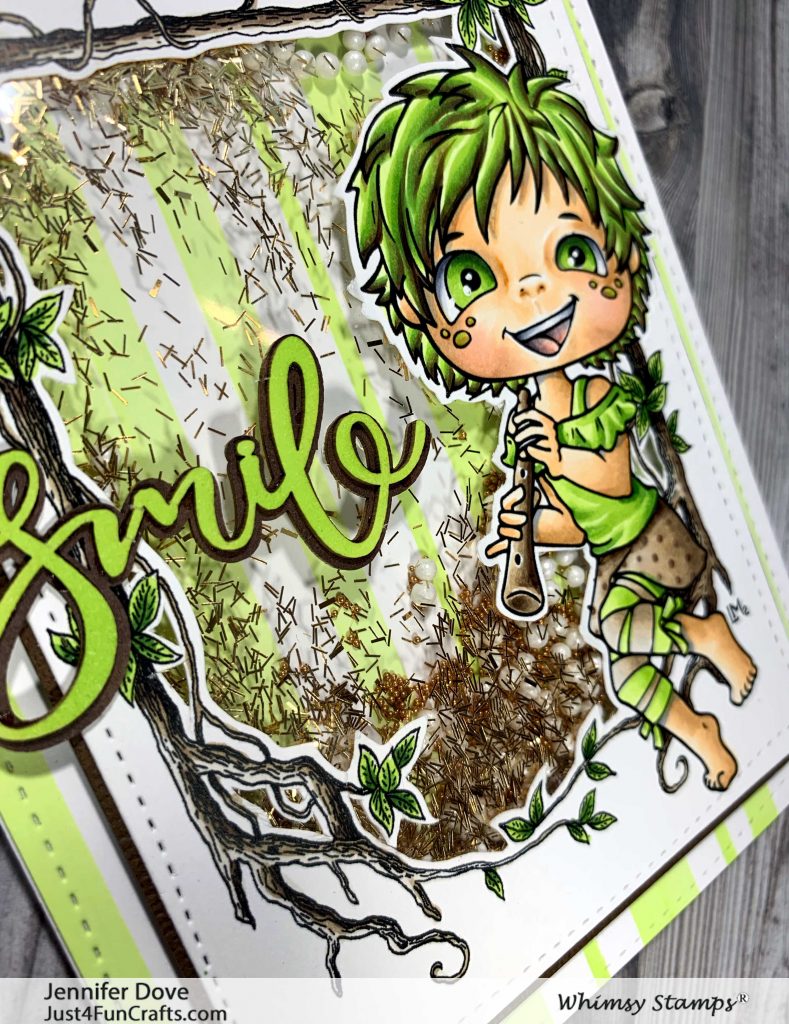 Creating the Card
How many of you like little Nymphs, Elves and Fairies?  I know I do!  This stamp is adorable and you can use it in so many ways.  I decided to add the face to her, and omit the wings.  I stamped her over the Elegant Frames to make her appear that she is sitting within the frame of tree branches.  The only thing I didn't have to add into the shaker was some fun music notes.  I will have to keep my eyes out for a cool music note punch or die.
After stamping it all out and coloring it up in pretty greens and browns. I die cut it to create the shaker card.  The inside area was hand cut to create the window.  I filled the shaker card with some some fine tinsel like shaker material and….wait for it……some white cupcake sprinkles.  I wouldn't recommend eating them last this point.  They were perfect little white round bead-like shaker fun.  I added a chipboard sentiment to compliment the whole card.  You can find them HERE if you like them.
Elegant Frames clear stamps

Polka Dot Pal Khadija clear set

Copic Markers
E50 E51 E53 E55 R11 E04 E93 BV20 Skin/Mouth
E40 E41 E43 E44 E47
C1 C3 C5
YG01 YG03 YG17 YG67
I look forward to seeing some of your creativity too.  Enjoy the inspiration!   – Jenn Dove