I am excited to be part of the introduction a line now sold through Whimsy Stamp, illustrated by the most talented Barb Sproatmeyer.  These amazing clear sets are going to be a hit.  You will notice that most sets will be interchangeable with each other bringing more life and scenery to each character.  I can not wait to color up each and every one.  This month you will see there are two in the new release.
This sweet gal Syeda is in the Polka Dot pal line of stamps.  When you buy her, she only has dots for the eyes.  You can choose to leave it as is or you can add the little face that comes in this set.  Better yet you can use a face off one of the other sets as well.  I love the interchanging pieces and know you will too.  How cute is her sweet little piggy?  I have a soft spot for cute pigs.
Creating the Card
After coloring up this cutie-pie I layered it onto a complimenting blue cardstock.  I wanted to bring out a little country so I added a layer of burlap and some blue-jean ribbon wrapped around some hand stamped background paper.
The background paper was created using an orange Karin watercolor marker.  I achieved the look by coloring onto the Tartan Plaid background stamp and spritzing with water and then stamping it onto white cardstock.  I love the softer look it gives as apposed to just stamping it on a stamp pad.
Once the paper dried I die cut it out with the ZigZag Rectangle die and layered it onto the blue cardstock.  The top image layer is popped up to give room for the burlap.  Of course I finished it off with a little "smile".
You can find all the stamps and dies at Whimsy.  Feel free to click on the links below for quick shopping.  These are affiliate links and give me a little kick-back at no additional cost to you…so thank you for that 🙂   Have fun shopping, you deserve it!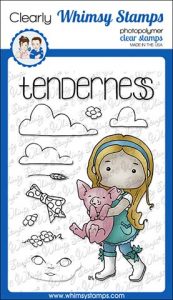 Polka Dot Pal – Syeda clear stamp set

Tartan Plaid Background rubber stamp

Karin Brushmarker Pro – Amber 195

Zig Zag Rectangle die set
Copic Markers
E33 E08 R89 E47 hair
E50 E51 E53 E55 R11
Bv20 Bv23 BV25 BV29
B91 B95 B97
Y38 YR04 YR07
C1 C3 C5 C7
E40 E41 E42
E31 E33 E57
W1 W3 W5
YR31 YR24
G07 YG67