Did you see my post about my morning mess on Facebook?  If you did then you were probably wondering what I was creating.  Well, here it is!  If you do not follow my facebook and would like to, here is my link.
This fun shaker globe will make the perfect memory card that can even be hung from the Christmas tree.  For all you DIY people out there, a fun ornament just for you!  Using the latest release from Whimsy stamps these Winter Sports Dragons, from illustrator Dustin Pike, will steal your heart.
Creating the Card
I thought I would use the Shaker Maker Glitter Globe to its full capacity to create this card.  I cut two thick layers of the outer main piece of the globe with the inside cut out so that I could sandwich acetate and create the shaker behind the image and still have a foreground.  Before moving forward I added the globe tab.   Glitter and snowflakes were added inside and then I closed it with a solid globe piece.  Now the shaker pieces are in place.
You could use any image for the front of this Snow Globe, but I decided to keep it a winter scene with a Dragon in skates.  This silly guy was added it to the front of the Acetate within the upper globe frame, then I added some fun trees to frame him in.  The base of the snow globe was stamped with Snow Flurries background stamp and the edges inked because that helped to make it stand out.
What's a snow scene without sparkle? So, I grabbed my glitter and added it to the base where the dragon was sitting.  Using the Quick Strips die I added a simple sentiment to the top left of the card front to round it all out.
You can find all the products below using my affiliate links.  Every time you order from my site, at no extra cost to you, I receive a little kickback allowing me to continue my creativity.  So, thank you from the bottom of my heart for all your support and I hope you enjoy the products as much as I do!!
Winter Sports clear stamps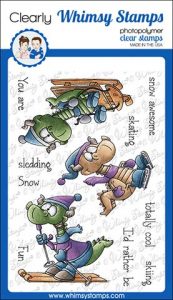 Shaker Maker Glitter Globe die set

Snow Flurries background stamp

Copic Markers Used:
V12 V15 V17
E41 E42 E43 E44
C1 C3 C5
W3 W5