Oh yes!  I went there!!  This adorable Reindeer, from Reindeer Farts, is a digital stamp by Dustin Pike and can be found at Whimsy Stamps.  How funny can you get?!  Don't you think this is a fabulous Christmas card?  For this card I used a new die called Marquee Slimline and boy was it fun making a different NEW sized card!  These long dies were the first on the market with the unique and creative new style, using a long die to create the card front.  Details below in the post.

Creating the Card
Get ready for fun!  I had such a great time making this card that you get to see another Slimline card tomorrow too.  This card measures 3.5 x 8.  I used some fun new products and I think you are going to want to rush over and buy them.  They are THAT cool!
I started out with the card base measuring 3 x 8.  This is the size of the slimline die.  I die cut some white cardstock and then used a watercolor marker to color on the Illusions background stamp.  Once colored I spritzed with cater to activate it and then stamped the paper.  This background reminded me of snow flurries.  I used this paper to do the Marquee die cut.  Using the center die cut portion I popped them up inside their openings.  I did layer all this onto a second layer of paper for stability.  I printed the image twice and colored them up.  Using the die I carefully die cut out the portions I wanted inside the die openings.  Once in place I wrapped some festive red ribbon.
All these layers got adhered to the card base.  Next I die cut the Slimline Postage and cut off the edges.  These were adhered to the inside and back edges of the card and backed with red cardstock.  Bam!  Done!…or is it…I think the snowflake needs glitter…sigh.
The possibilities of the Slimline dies are endless!  Be sure and check out the other DT samples using this die under the actual product in the Whimsy store.  Fun inspiration!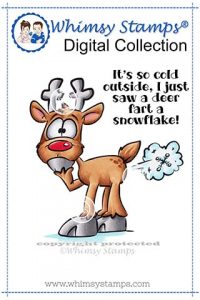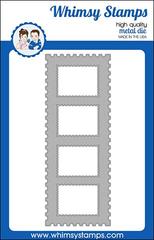 Copic Markers:
E41 E42 E43 E44
W1 W3 W5
B000 Boo
R05 R17 R29
C1 C3 C5