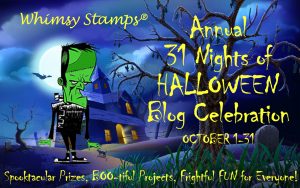 I hope you have had a chance to enjoy the first 11 nights of these fun and inspiring posts from the Whimsy DT over on the Whimsy Stamps blog.  If you haven't, be sure and head over to Whimsy to catch up.  Did you see there are over $350.00 in prizes being given away at the end of the month?  Yes, you heard me right, $350.00!
For my Whimsy Stamps inspirational post I am using one of the two stamps that I will be given by Whimsy to one lucky commenter from my post.   This stamp Country Porch looks like a welcoming trick-or-treat spot don't you think?  The warm glow from the window, with the fall leaves all around and a few welcoming  Jack-o-lanterns too.
When I created this card I wanted to add dimension.  Seeing as it's a larger card front image I thought it would be prefect to pop the different layers up.  If you look closely, I have 3 layers on the tree, and the house has two layers.  If you see this in person it is a "wow, cool!" moment.   What a perfect fall card.  Great for Thanksgiving, Halloween or anyone who enjoys a little bit of country.
How To Score Big!
Answer my question at 6pm and be put in for the random winner of the two stamps, DoveArt's Country Porch, and Pumpkin Patch.   Winner announced on Halloween night over on the Whimsy blog.
If you want more chances to win, be sure head to the Whimsy blog every night at 6pm.  You will want to see what the other DT members posted because there might be some prizes there too.  After spoiling all those trick-or-treaters, check back on the Whimsy Stamps blog to see if you were one of the lucky winners.
Once winner are announced (on the night of the 31st), you will have until the 7th of November to claim your prize.
So, my question to you is…Mwahahahaha, I guess you are gonna have to hop over to the Whimsy blog HERE to see my post and question…be sure and comment…
Country Porch rubber stamp
But before you go, be sure and enter below for the Grand Prize of 100$ Whimsy shopping spree.