Happy, HAPPY birthday Club La-La Land!  Celebrating 5 years of deliciousness with this subscription club kit!  YOU can get in on this kit, as well as have the opportunity to get past and future kits too.  You don't want to be missing out on this!

To kick off the party you are being given an opportunity to win a $25.00 giveaway in the store!  We are so excited you are joining us in this celebration of Club La-La Land!
How to Play Along
To enter the giveaway you will get one entry for each item below and you must comment for each entry:
1. follow La-La Land Crafts on instagram @lalalandcrafts
2. join Club La-La Land Crafts facebook group https://www.facebook.com/groups/clublalalandcrafts/
3. tag a friend in the giveaway post
Creating of this Card
When I created this card all I could think about was combining the two stamps, Birthday Present Marci and From All of Us, that you will receive in this kit.  It screamed "from the gang".  I wanted sweet Marci to be the featured image so I colored her up (with a little creative color placement on her face and skirt ruffle to add special features), in full color.  The "gang" was colored in monotones to make them the sub-feature of this card.
I am on the road traveling so I didn't receive the amazing dies for this kit, so I improvised with some of my favorite La-La stash and added the Flag Banner (my favorite banner dies), and the cupcakes from one of the past La-La Land Club kits (once you subscribe for 1 month you will have access to past kits too).
The card was framed with the La-La Land Scalloped Rectangle dies, and I cut out the center to create this frame.  I think it turned out perfect for this special occasion!
Be sure and check out what the other gals celebrating this event have come up with, so you can see the amazing dies included in this club release.
How to Get Your Subscription
You can get your subscription now!  The club kits are packed with stamps and dies and for this special release you will get a cute little gift as a special way to celebrate their birthday.  The deadline for the NEW subscriptions to start with the August Kit is August 29th.  Join HERE, don't dilly-dally!
Be sure and post your amazing creations using this fabulous new kit and tag la-La Land on instagram using the #clublllcturns5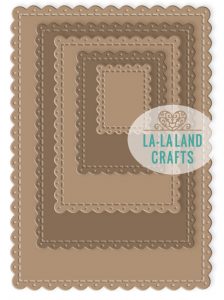 Copic Markers:
E50 E51 E53 E55 skin
E35 E08 R89 E57 hair
BV20 BV23 shadows
N0 N2 N4 N6 the crew
G40 G43 G46 eyes
R11 E04 cheeks/lips
BG34 BG15 BG49 teals
YG03 YG17 YG67 greens