Yes, thank you, I think I will have a sit in your garden!  Are you a fan of elegant stamps?  Whimsy Stamps has a whole line of them called the DoveArt line of stamps.  You can find them all HERE.  This stamp is one of the most recent release and I just love it!!
Creating the Card
When creating this card I wanted to keep it soft and airy feeling.  The stamp needed to be the main focus.  The "weight" of the image being on the left side so I created the cluster with the sentiment on the right side.  The little knot on the bottom left also helps ground the image.  Do you see how it keeps your eye looking at the whole card as a whole and not bouncing around the card?
I see people using those gorgeous paper flowers a lot and some people tend to make clusters without remembering balance…if you add visual weight to a card do not forget to balance it out so the eye isn't drawn and stuck on the cluster…just a little sweet advice.  BTW I sometimes forget so don't whip me over the head with a noodle!
Other then that, this card is pretty straight forward in design.  I listed a few of the product below.  I can not wait to see how you design your card!
Happy Fourth of July in the US!!
Are you enjoying a moment of quiet or enjoying the crazy, being surrounded by family and friends?  Whatever your plans are today I hope you are living happy!
Hand Stitched Rectangles die set

Leaf Foliage 1 die set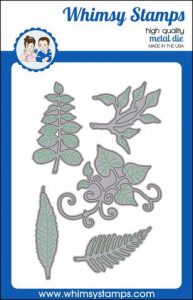 Copic Markers:
E41 E42 E43 E44
B41 B91 B93 b45
YG61 YG63
YR20 R11
E50 YR31