Have you had one of those days?  I think everyone has.  This new clear stamp, Camp Critters, from Whimsy Stamps is perfect for that person feeling "down in the dumps".  Don't you love the expression of this Raccoon?  He is definitely feeling' it.  The set comes with a beaver, Raccoons and great sentiments and are sure to give you a grin.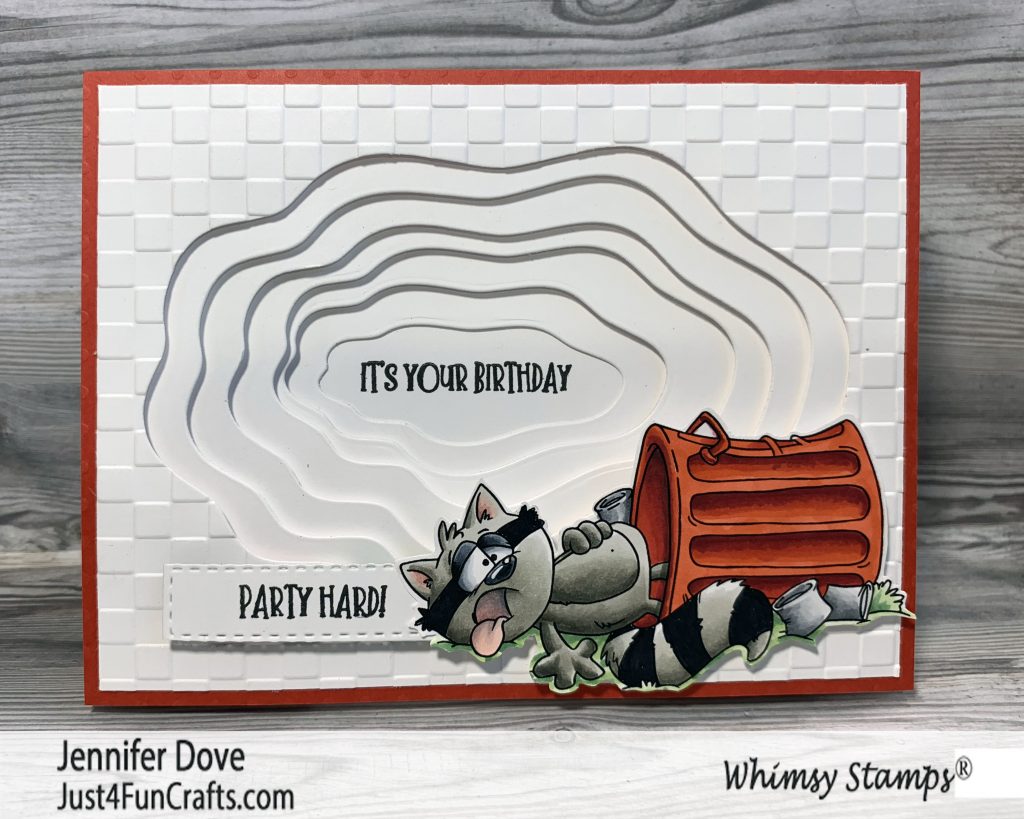 Creating the Card
When creating the card I had a plan.  I was going to use the die to create a "hole like" appearance in the center of the card, and stamp the die cut pieces with a wood grain stamp.  In the end I decided to leave it white.
I used each die in the Wavy Nested Frames die set to create the center of the card.  The outer layer was embossed with a fun embossing folder because I wanted to show a little separation in the layers.  Each layer was popped up using foam tape (yes, its a thick card) and layered onto the card base.  You might want to be sure and do a tent-fold card when doing this because the weight of the card will cause it to want to fall forward. After layering it together I added this little wiped-out critter to the front of the layers, and the sentiment into the center.
I hope this little guy can recover from his birthday!  While we wait, be sure and head over to the Whimsy store and check out the whole release.
Camp Critters clear stamps
Wavy Nested Frame die set
Copic Markers:
N0 N2 N4 N6
W2 W3 W5 W7
C00 C1 C3 C5 C7 C10
G40 G43 G46
E04 R11
R05 R17 R27 R59