I am a sucker for a great lighthouse stamp.  This NEW Beach Lighthouse rubber stamp, by Whimsy Stamps, with all its detail was such a joy to color.  The detail makes it even easier.  I colored this up with lavender bushes surrounding a red lighthouse because that is where I want to be.  Don't  you  want  to  see  this  place?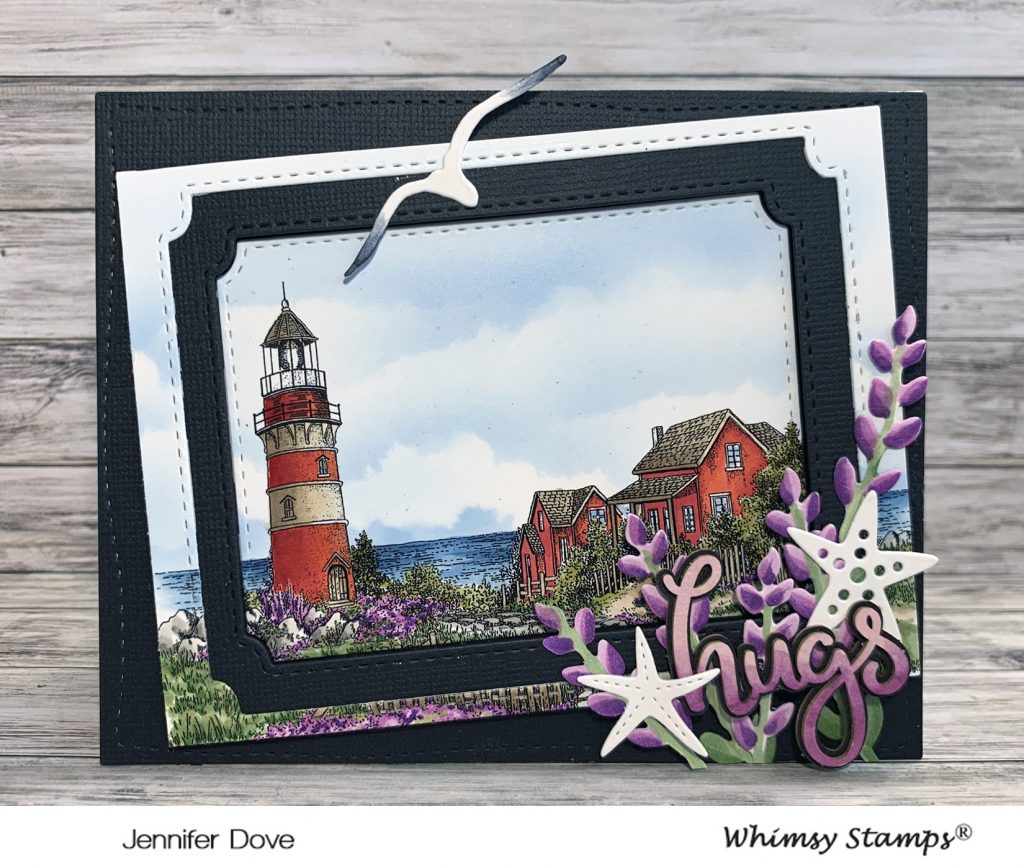 Here is a closeup of the lavender sentiment cluster I created with some wonderful dies and chipboard sentiment.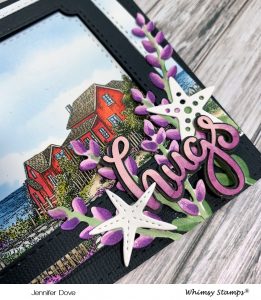 Creating the Card
For this card I colored up the image and airbrushed the sky.  Here comes the hard part, cut straight through the image (ouch) using the Notched Rectangle die and discard the colored frame you had cut out.  Then cut another frame out of the black cardstock.  I placed the pieces at an angle because I wanted to add a sentiment cluster in the right corner.  This created the card balance.
For the cluster I die cut one of the foliage pieces from Leaf Foliage 2.  This leaf reminded me of lavender so I colored it in the purple tones.  I added 2 of the the starfish from the Kinetic Straight Waves die set because it added more of a "beachy" feel.  Notice how I left the starfish white?  The reason was to draw the eye to the sentiment cluster.  White was also mimicked in the sky as well as the seagull, allowing the eye to be drawn into the featured image.
Once the cluster was all adhered down, I added "Hugs", a Make It Crafty chipboard sentiment colored in matching colors.  This chipboard is perfect for coloring onto.  My card wasn't quite complete without a seagull, so I die cut one of the seagulls from the Up in The Clouds die set.
Beach Lighthouse rubber stamp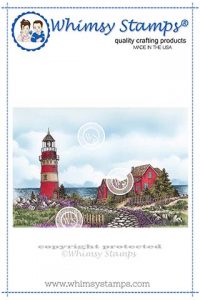 Up in the Clouds die set
Notched Rectangle die set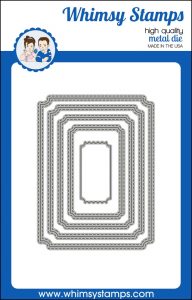 Leaf Foliage 2 die set
Kinetic Straight Waves die set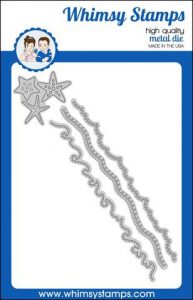 Copic Markers:
B91 B95 B97 ocean
B41 airbrushed sky
YG93 YG95 YG97 foliage
YG63 YG67 foliage
R05 R17 R27 R29 lighthouse
W1 W3 W5 rocks
E41 E43 E44 lighthouse/fence
V01 V06 V09 floral (lavender)