I am drawn to the sea.  Having lived most of my life by the ocean and loving the smell of the salt air and the sound of the seagulls.  This shaker card was created in remembrance of my time spent digging my toes in the sand.
Whimsy Stamps has just released some beautiful new stamps that relate to the sea.  Introducing Pelican and Build a Scene – Beach.

Creating this Card
The making of this shaker card was super easy and extremely fun.  The front of the shaker was cut out using the Notched Rectangle die and stamped with the water from Build a Scene – Beach.  All of the sky was airbrushed.  If you don't own an air compressor you could just as easily use a stencil.  Another option would be to use the clouds stamp from the Build a Scene set and create the clouds with the stamp.
Once the front was done I added the acetate and foam tape and place some sand and micro-beads to the shaker portion resulting in a sandy look under the Pelican.
The background was stamped with the Pelican and colored and once the coloring was complete I airbrushed the sky.  I die-cut the background with the Hand Stitched Rectangle die and added the layer as the background within the shaker.
For the front of the card I added the Stitched clouds.  I love the daintiness of this cloud die because I didn't want clouds that felt heavy.  The balance between the clouds, the airy cheese cloth and the elegant Sea Bubbles die from la-La Land worked perfectly together.
The card was finished by adding an anchor and some yummy Nuvo crystal drops to the "netting".
I can almost feel the wind in my hair and hear the waves crashing on the shore.
Build a Scene – Beach  rubber  stamps
Pelican rubber stamp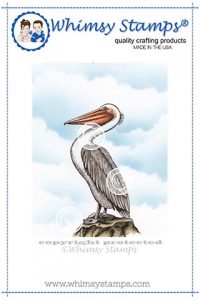 Stitched Cloud die set
Notched Rectangle die set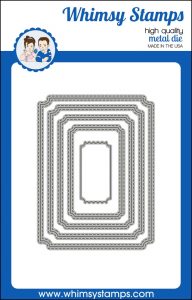 Hand Stitched Rectangle die set

Sea Bubbles Border die

A BIG Thanks!
Did you know I use affiliate links in my post?   When you place an order, I get a tiny kickback (at no extra cost to you) from your purchases.  It's like getting a little hug from the people who love reading my blog, so a big thanks to you, it is always greatly appreciated!!
Copic Markers:
YR01 YR02 YR04 Y32 beak
YG91 YG93 YG95 rocks
W00 W3 W5 W7 pelican
B41 airbrushed sky
B91 B93 B97 ocean