Oh My, Oh My!!
Dustin Pike and Whimsy Stamps have done it again.  This month it's all about the ants and their antics.  These sweet little guys are into all sorts of fun and causing oodles of trouble at the same time. Do you know anyone like that?  Then you might just need this set.
Today I am sharing with you the card I created with the Ant You Sweet clear stamp set.  I love how the images are a perfect size for a card front and those fun sentiments allow for so many card options.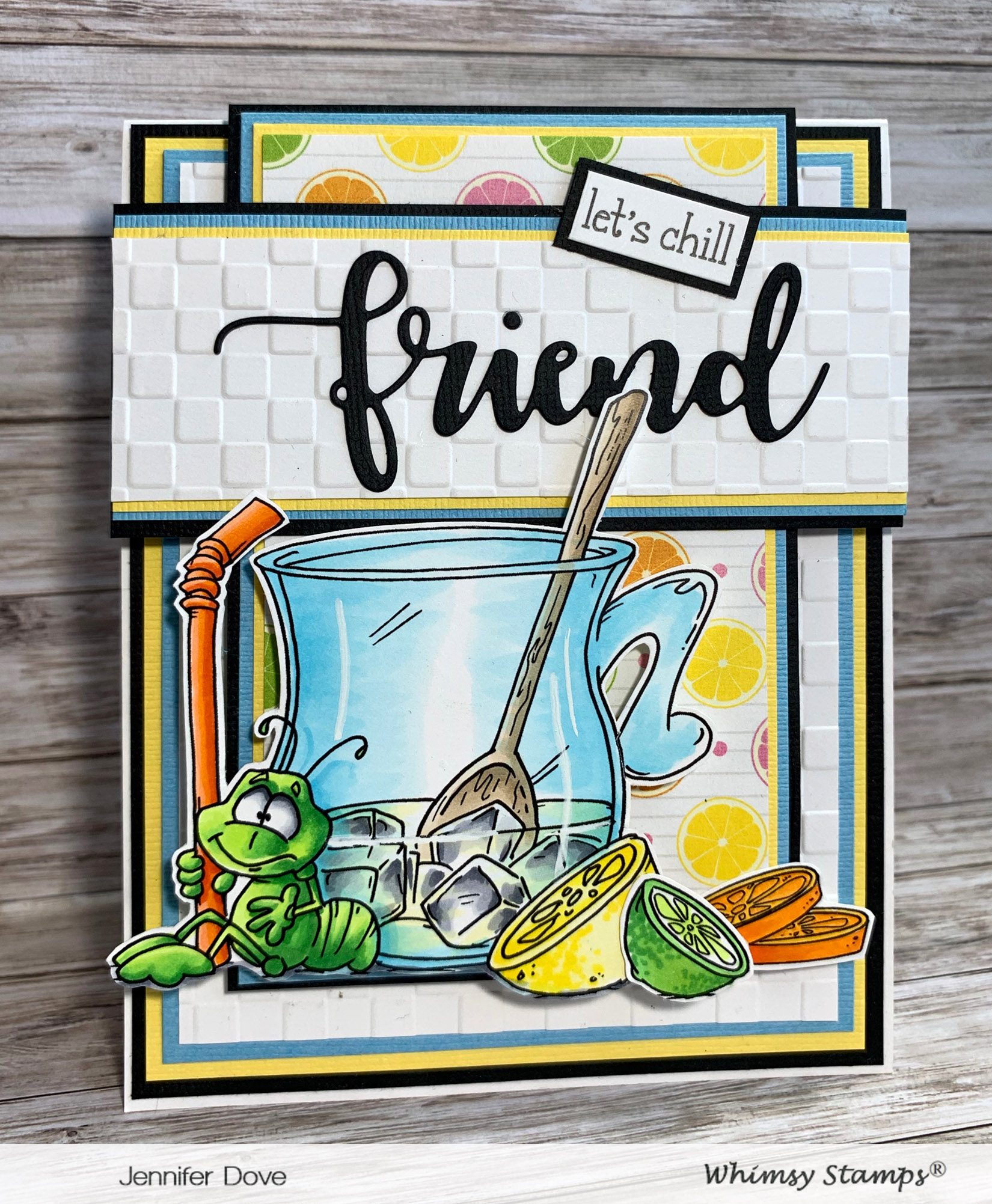 Creating the Card
I based the whole card around the background paper that I had in my stash forever and I finally was able to use it.  Don't you love how the slices in this stamp set can be used for all sorts of citrus.  I cut the cardstock to match the coloring and I love how the black cardstock is an added pop to separate the layers.
I used one of the die layers of the "Friend" die set to go with the "let's chill" sentiment from the clear set.  With the visual weight of the card and image being more on the left side of the card I decided to place the "weight" of the word FRIEND, and Let's Chill, more on the right.  Also note that I colored the straw on the left and the citrus on the right to capture the eye.   I think it gives a balance.  What do you think…does this layout freak you out?  No matter, it's all glued down now 🙂
Did you see one of the sentiment option says "When life gives you lemons…add Vodka"?  Now if you weren't quite convinced before, you know you gotta have it now!
Be sure and check out the other Ant set when you are rushing over to buy this one.  You can find the other set HERE  and this single fun one HERE.
Ant You Sweet
Friend Word and Shadow die set

Copic Markers:
Y17 YR04 YR09
Y11 Y08
YG01 YG07 G07
C1 C3 C5
E41 E42 E43
YR0000 YR000 YR00 YR02
BG000 B00 BG01 BG02 BG05