Sometimes we just need to kick that sickness in the butt!  Here is the perfect card for a sick friend…I mean sick in every way.
This sweet NEW Stretchy Ostrich and her faithful friends are here to cheer you up!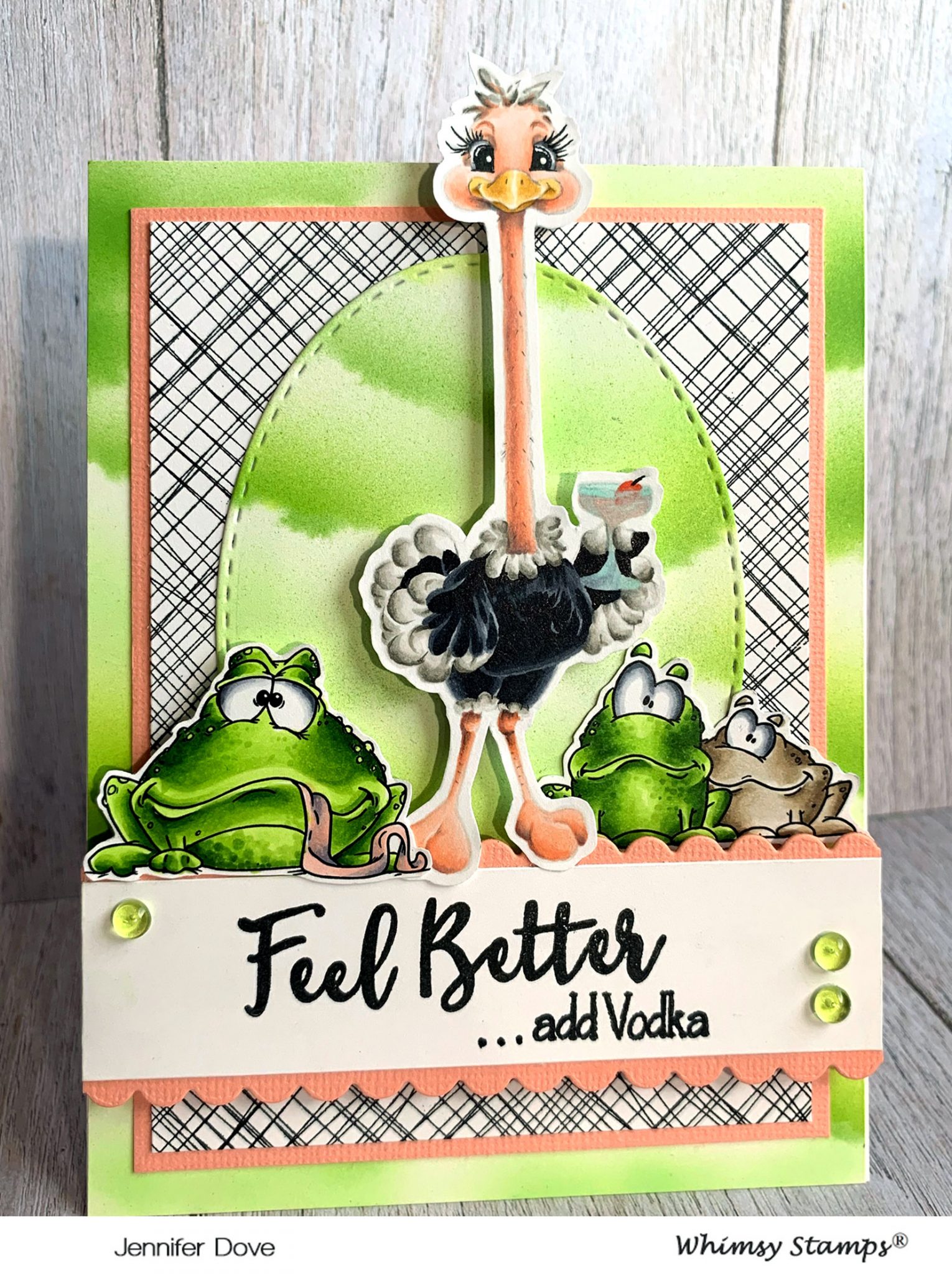 Creating the Card
I wanted to do some more playing around with the best no-line stamp pads around.  The no-line series of Gina K. Designs Amalgam Ink stamp pads are literally the BEST.  They are perfect for no-line coloring and come in a handful of colors.  Perfect for this technique.  This card is using Whisper.  Hint – if you find the lines are too light to see when coloring, all you have to do is stamp the image twice (or more).
For this card I did a bit of airbrushing on the sky and I chose green as there was no green in the Stretchy Ostrich to match the frogs, to match the papers…I felt I needed to establish green somewhere else on the card, so why not the background.
Layering the Card
After stamping the black Meshy Mesh background in VersaFine black I started to build the card.  First, I die cut the center of the cloud background with the Basic Stitched Ovals die set.  This guaranteed matching paper layers and the under portion of the airbrushed sky was just going to get wasted anyways.
Next I adhered the lower sky layer, added a layer of the black Meshy Mesh and then the oval piece to the card front.  I combined and stamped the sentiments (from the Ant set and the Everyday Scripted clear set) and adhered it to the scalloped border from the Kinetic Straight Basics set.
Using the hand cut Ostrich and the frogs (from the Gnome sets) I layered and popped them up onto the raised sentiment strip.  How fun is that!
NEW Stretchy Ostrich rubber stamp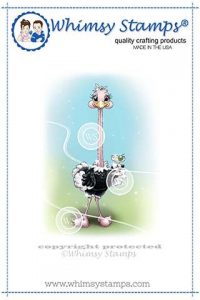 Gina k. Designs Amalgam ink – Whisper
Meshy Mesh Background rubber stamp
Kinetic Straight Basic die set
Ant You Sweet clear set
Everyday Scripted Sentiment
Gnome Matter What clear set
Gnome Me So Well clear set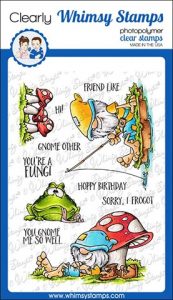 Copic Markers:
W00 W1 W3 W5 ostrich feathers
C3 C5 C10 ostrich feathers
YR30 YR31 YR23 beak
R00 R01 R02 E04 neck/head/feet
BG10 BG11 R05 R20 glass of medicine 🙂
YG11 YG03 YG17 background
YG03 YG17 YG67 frogs
E42 E43 E44 frog
The links above are for taking a look at the products easily.  I only work with products  and companies I love and want to promote.  I know you will love them as well and that  motivates me to share with you.  By clicking on the links and making a purchase I get a small kickback at no additional cost to you.  You can event throw other stuff in the shopping cart as well.  Biggest thank you for all your creative support! – Jenn Dove