I am so excited for the La-La Land Crafts release!!!  This adorable In the Garden Marci stole my heart and the Oopsie Daisy background stamp made me squeal a thousand times!!!  I was so excited to play with these and couldn't wait to show them off.  Check out what I did!
Are you wondering about the 2 for 1 in the title of this post?  I took sweet In the Garden Marci's hair and cut it off!!   WHAAAAT?!?!  That is right, two looks for one price.  See picture below.  Don't you love it?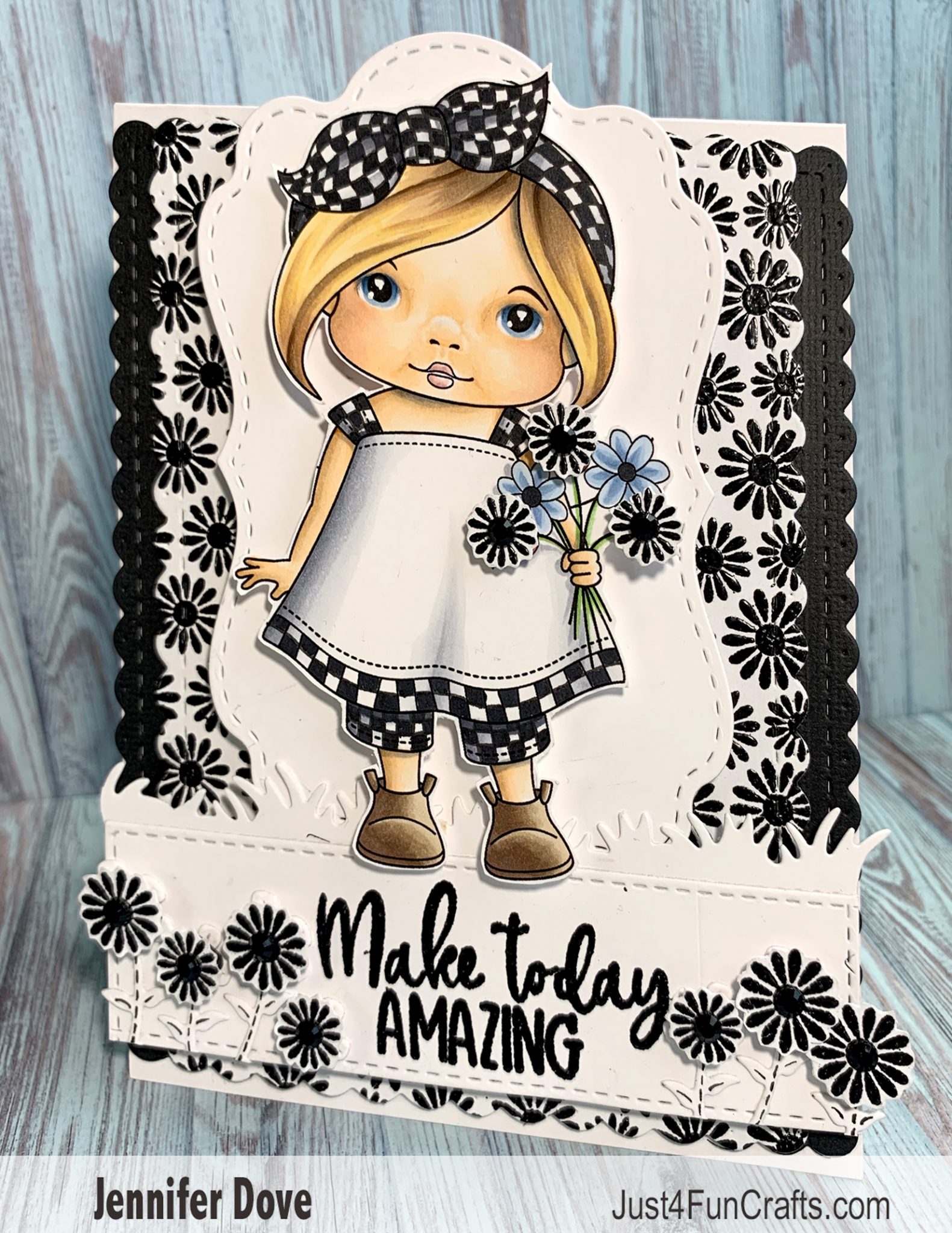 Let me make a public announcement…the card stamp you see above has been gently and carefully altered without drawing or changing the original stamp!  You will be pleasantly surprised to know you get 2 for 1 price!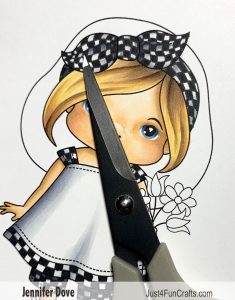 Creating the Card
I love the look of black and white and knew that with the Oopsie Daisy background this would be the perfect time to do a mono-toned card creation.
After coloring up In the Garden Marci I hand cut her out.  She was placed on the Nested Frame with pop dots to make her stand out.  Originally I had colored the Tulips in red (for color pop) but decided I would repeat the background stamp by cutting out some of those flowers and adding them to her bouquet.  This brought together a little more cohesion to the card front.
I embossed the Oopsie Daisy rubber stamp onto white cardstock using my yummy Jet Black Nuvo embossing powder and this gave it a nice shiny crisp designed background.   Using the Scalloped Rectangles I built up the layers for the front of the card.
I embossed the sentiment from Oopsie Daisy onto white cardstock and then creatively used the largest die from Long Flag die set to create the stitches on the sentiment layer.  Next I added Flower Bunch to the bottom of the sentiment layer as well as the Mushroom and Grass border to the top (cutting off mushrooms).  I finished it off with some hand cut flowers from the background stamp.  The centers of the black flowers even have a little bling.  Yummy right?
Where to Purchase
You can find all the products linked below.  I know you will want at least a few or more of these favorite products!  Run!!
Oopsie Daisy rubber stamp set
In the Garden Marci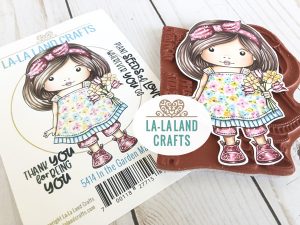 Flower Bunch die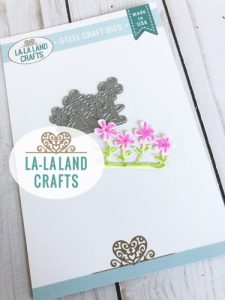 Scalloped Rectangle dies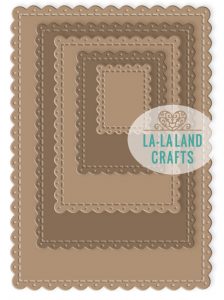 Nuvo Jet Black embossing powder
Copic Markers:
E50 E51 E53 E55 R11 skin
C0 C1 c3 C5 C10 dress and features
B91 B95 B97 eyes
B41 B45 YG17 flowers
YR31 E34 E44 hair
E42 E43 E47 shoes