Everything about this card makes me happy!
Let me start by saying I found this paper that I just adore.  Green with orange pop and sweet little white flowers.  I loved it so much I was just going to hoard it and not event use it, but then I had an idea…why don't I create a card that incorporates the design of the paper.  This adorable stamp Unicorn Molli from La-La Land Crafts was the perfect stamp for this!
Instead of paper piecing the skirt I thought I would just mimic the paper design with a bit of creative color placement.
I used all sorts of La-la Land goodies to complete this card.  Starting with the cool Large Stitched Tags for the bottom layer I added the new Scalloped hearts on top in different layers.  If you look closely you will see that I cup off the bottom of the Rainbow in the Cloud and added the tops to the bottom of the card.  The Bottoms of the clouds got added to the top of the card.  Fun huh?!
Check it out.  For the design I did little orange dots on the skirt.  Then I colored the rest of the skirt with the greens, finishing it off with white gel pen.  This was more simple than I thought.
I added accents to the top with the white gel pen as well to compliment the orange dot paper.  I loved the results.  Are you are inspired to create your own designs yet?
Products can be purchased at the links below.
Large Stitched Tags die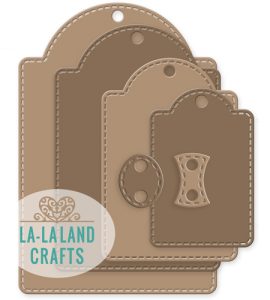 Copic Markers:
YG00 YG01 YG03 dress
BV20 BV23 shadows
B41 B45 eyes
E50 E51 E53 E55 R11 skin
Y17 Y32 YR61 YR65 dress
E35 E08 R89 E59 hair
White Gel Pen