Check out this super fun card!
Have you seen this in the new release yet?  These adorable penguins are part of a super fun clear stamp set called Penguin Slides.  This is the perfect set to add to the Kinetic dies that are also sold through Whimsy Stamps and includes not just these little cuties, but also some fun sentiments too.
You can see I created more of a summer theme with the flowers just to be a bit different, but they would also be adorable sliding across ice, wouldn't they?

For this card I went a little crazy.  Not only is it a no-see pull (no-see means you do not see the track the image slides in), allowing for the bottom penguin to slide from right to left, but the penguin above it is can also move and is a penny slider.  How much cute action can one take at a time!?

Kinetic Curved Hills
Penguin Slides clear stamps
Kinetic Straight Basics

No-See Kinetic Basics
Wavy Edger die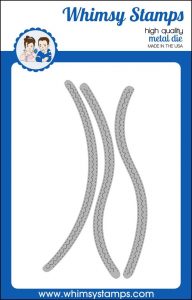 Copic Markers:
C1 C3 C5 C10
YR04 YR07 YR09
R11