Power Poppy has just released this amazing digital stamp.   You can find this fourth installment of the Cafe au Lait bowl bouquets now available in the store.  These luscious Hellebores, Ferns, a Tree Peony and stems of Spanish Bluebells are gracing a beautiful polka-dotted vintage bowl that can be colored in so many different ways.  What an amazing stamp, and it comes with 4 different versions for you to choose from.
Don't you love the dreamy look of this digital stamp Bowl of Beauty.  
Creating the Card:
You may choose to print your digital stamp out in the gray lines or the black lines depending on the look you want, but I chose gray for this one because I wanted the lines to almost disappear when colored.  The Whimsy Stamps Notched Square dies make a perfect frame for this bunch of flowers.  If you place your image onto a simple embossed layer using white it really makes the image the focal point of the card.  Here I used the Checkered embossing folder by Darice.
Whimsy Stamps has a couple perfect layering dies to create a sentiment and as you can see I kept with the white theme for both layers.  If you are looking to place ribbon on your card but it makes it look a bit too foo-foo you can chose to used the Straight Edger die set to make a simple paper ribbon.  The Little Heart dies were the perfect thing to use to finish off the card.
Whimsy Stamps:
Notched Square die set

Friend Word & Shadow die set


Straight Edger die set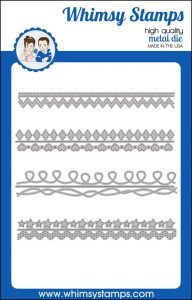 The Stamp Doctor:
Little Heart dies
Misc: Darice Checkered Embossing Folder
Copic Markers:
RV000 RV00 R81 RV55 RV66 RV69
Blender Marker YG0000 YG000
G21 G24
YG01 YG67
B41 B12 B63 B66
G43 G46
RV000 RV00 R01 R81
C1 C3