Check out the mini shaker, shake, shake, shake.
I added a little extra fun to this card and created a mini little shaker out of the scroll.   This is one of the 4 cards we will be coloring up at my local card class this month.
There are two wizards, a spider and frog in the Create Magic set.  Doesn't this wizard look like he is very serious about creating some magic?  I love the illustrations from the Dustin Pike line of stamps!

For the beard I wanted to maintain a slight white gray look so I used the cool grays.  As to not make the beard and the white parts of his clothing look the same I used the warm grays to shade them.  I like how it turned out.  I used two dies from the Notched Rectangle die set for this card.  One is the white mat and the other is the small ticket window in the shaker.  This is a very useful die set!
Create Magic clear set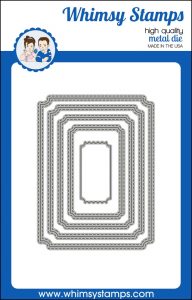 Notched Rectangle Die set
You must check out the Star Wreath die from La-La land too.


It just added the perfect touch to this card.
Copic Markers:
C1 C3 C5
W1 W3 W5
B21 B24 B26
E50 E51 E53 E55
Y15 Y19
(0) Blender