My mind went a little boingy when I started designing this card. Its one of those…I'm not sure I love it, but I love it cards. This stamp is from
La-la Land Crafts
. For this card I used the new release
Heart Hands Molli
. Did you know she is either rubber or digi? Perfect for everyone. I added the stripes to Molli's clothing. I wanted matching paper for the skirt so I used my black Copics to create the stripes. I love how I can make matching paper. I do like the mixture of crazy papers.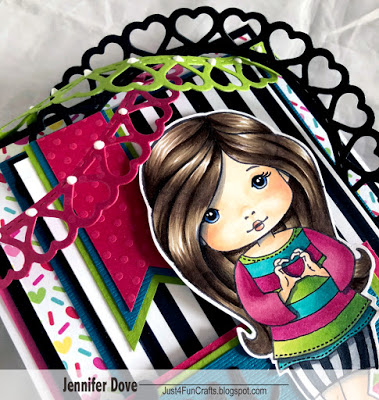 I wanted to use the Open Hearts Doily die in an unconventional way so I cut off the lower portion of it and started entwining different pieces to make it more dimensional. I should have added the Nuvo drops before it was on the card so they would be nice and round but alas it was an afterthought. I did use some of the hearts from the border to add elements. If you look at all the little pieces that are the leftovers from the Doily die you can see that its great pieces for a shaker card, so save them.
Copics:
E50 E51 E53 Skin E93 cheeks E04 lips
C1 C3 C5 C10 Skirt
100 Background stripe
RV34 RV17 RV19
BG15 BG45
YG01 YG03 YG17
E43 E44 E47
BV20 BV23 E51 Shadows
I hope you enjoyed a little wild and crazy card making today!
Jennifer Dove