Make it Crafty is back at it with its challenges again. Oh how I love Zoe's challenge blog and challenges. This month it's "skin". If you aren't comfortable with coloring skin she has some great Coloring Tutorials. Either way it can't hurt to try out the challenge at your own pace, in your own coloring style. With practice we get better and better.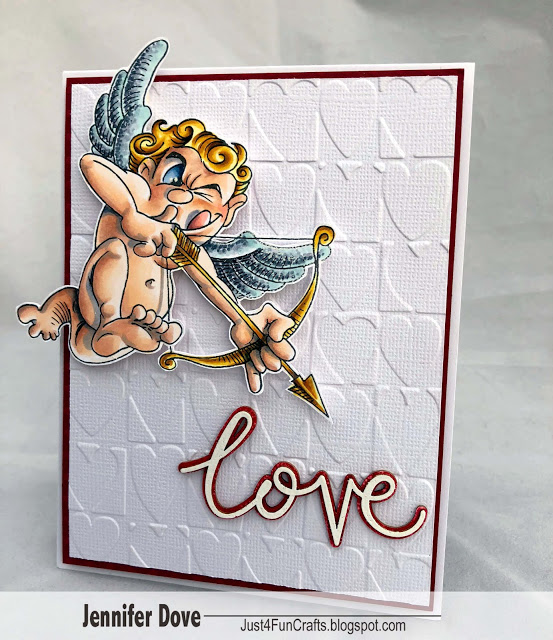 I decided to color up "Aim Em Up Cupid". He just cracks me up. I think he takes his job seriously! After I finished coloring him up with my Copics I fussy cut him out. I added him to an embossed background.
Keeping it simple I added a chipboard sentiment "Love" from Make It Crafty. I heat embossed both pieces of the chipboard word with fine white embossing powder. I then airbrushed the bottom piece with a red Copic marker (as I dont have red embossing powder). How easy is that to get just white and make it any color I want? Next I glued the two chipboard words together giving it the dimension. I love Zoes layered chippies!!! You can find so many sayings and designs. They are so strong yet delicate too. You dont have to emboss them, you can color directly on them using your favorite coloring medium or ink. I will also mention that you can get tons shipped to you at a great price.
Copics:
Skin – E50 E51 E11 E15
(E93 E04 tongue and cheek..ha ha)
Shadows – BV20 BV23
Gold Bow/Hair – Y11 Y15 YR24 E25
Wings – C1 C3 C5 BG10
Eye – B91 B95 B99