I was blessed to meet Irina with
La-La Land Crafts
last week and what a beautiful, fun, spirited individual she is. She has an amazing stamp company and her products are top-notch. I am getting to play with some of the new released stamps and dies and I have to admit they are SOOO yummy! The stamps stamp so crisp and the dies cut perfect! I can't wait to show you more in the upcoming weeks.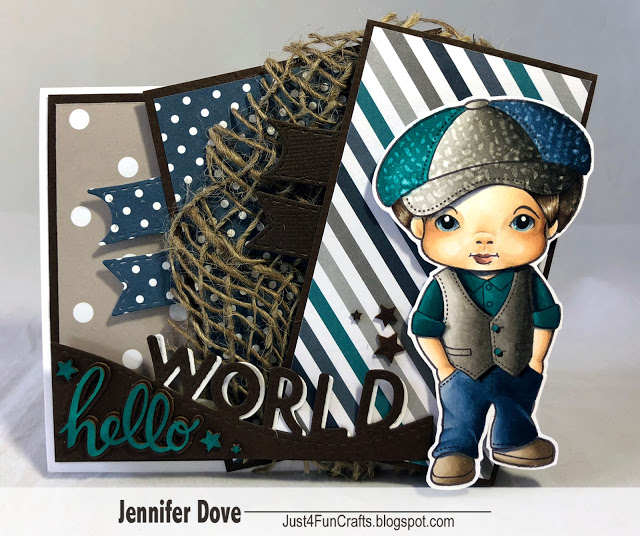 Here is
Jaunty Luka
all colored up with tad bit of minimal Jenn flare (with permission from Irina). My next challenge to myself is NO creative color placement. It is harder for me than you think. Given these images are so darn stinking cute though, they really didn't need anything "added".
I added a bit of texture to the hat using burlap as a texture rag and blending solution.
I used the new
Two Flags die
from La-La Land on the left side of the card layers and stood him next to the
World Border die.
Because the background is so busy I layered the World Border die with a white layer to make it stand out.
Finally I added some of my favorite chippies with
"hello" from Make It Crafty
and chose to add some tinkling
"Stars"
. All I did was use my markers to color them up to match the cardstock.
Copics used:
Skin E50 51 21 23 E93 cheeks
Shadows BV20 BV23
Hair E42 43 44 47
Clothes W1 3 5
BG09 49
B91 95 97 99
Eyes Jenn Style – B00 B97
Lips E93 E04