This month I will be teaching some fun ways to color hair in the local class in Arizona. Here is one of the cards we will be making using a cute little stamp from CCDesigns called Bunny Lucy. Just in time to whip some up for Easter. I think she is fun-dorable!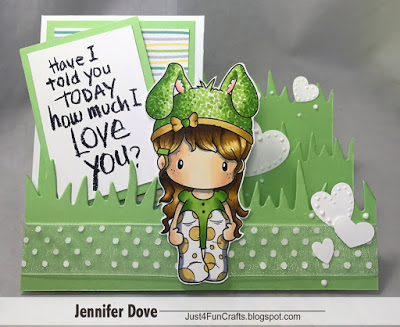 There are still a few spot left in this class if you want to join me coloring up two full images in class and practicing on a worksheet. Plus we always have a bonus too. All images come with a complete card kit to finish it off. The schedule and contact for the classes is located under "Class Schedule" above.
Also loving up on the White Nuvo Chrystal drops. I added them to the hearts and they remind me of the old white bed covers with the white bumps on them…gosh, what are they called…anywhoooo…I love the look!
Copics:
Y21 Y26 E57
YG03 YG17
E50 E51 E21 BV20