I am a huge fan of the quirky style of Lisa Bloobels artwork. She just offered a special membership to receive some of her quirky digis within the Bloobel designs. I just knew I had to have it! Look at this one you get in the membership! You can find the info HERE.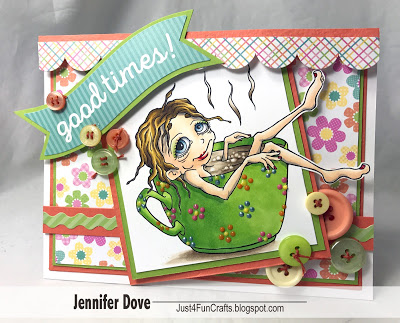 Obviously she is taking a "Bloobel bath" in a cup of coffee….well that was my intention at least….either that, or its very dirty water and the "steam" is actually stench ha ha…anyways, here are my colors.
Copics:
E50 E51 E21 BV20
Y21 Y26 E77
YG03 YG17
C1 C3 C5
Y11
E93 R29
B91 B97
E41 E43 E44
Did you see how I used the Nuvo crystal drops on the cup? Yup loving me some Nuvo!