I have a few fun things to share with you today. You don't want to miss this…
1. A new release from Power Poppy
2. Copics new width of Glitter Deco Tape
First I wanted to share with you the latest release from Power Poppy, just perfect for those cards and better yet, tags for those gift you are starting to stack in the closet. If you are familiar with photoshop you can quickly color it in, or if you need a bit of coloring therapy you can take time to color it with your favorite coloring medium…of course I used Copics and combined one of the new images with Glittering Glass Santa digital image to make this card. PLUS there is even a coupon for a special discount. SAY WHAT?! You can find the new release HERE in digital stamps. Scroll all the way to the bottom of this post to get all the details on the 30% off at Power Poppy!
When I made this card I wanted to give it some shimmer. I added some silver glitter to Santa's jacket (which for some reason started to sluff off)…thank goodness for this next product to rescue the need for glitter. X-Press It (Copic) has this amazing NEW 1″ width of Glitter Deco Tape. It can be used similar to washi tape and has this AMAZING shimmer of glitter. It cuts down nicely too if you wanted to create your own width. It is smooth and none of the glitter rubs off. I used the silver narrow width tape and powdered the back of it to created this bow to top the card off. It is even acid free!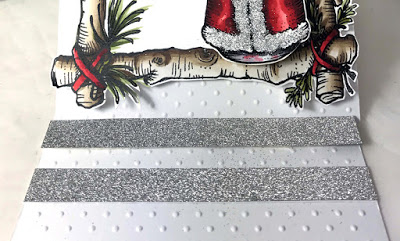 It was so easy to add that pop of glitter to a project. I know I will be needing more of this fun stuff!
GRAB YOUR DECO TAPE!
Power Poppy Special