I thought I would play with the Atyou Spica pens today to create a simplified Christmas card. I used some chippies from Make It Crafty that are really a nice quality and come in cream. They were so easy to color with the Atyou Spica and the glass glitter showed up really well. It dries on the chipboard right away.
Atyou Spica pens each features super sparkly micro glass flakes. They're non-toxic and archival and write for over 350 yards. They come in a huge array of colors and can be bought individually or in sets. This would be tons of fun in an adult coloring book too! Click on the link below to browse the different options.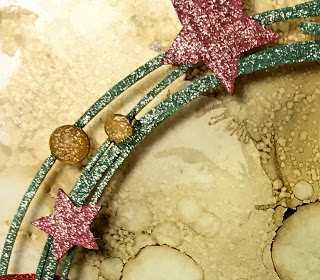 If you look really close in the top photo you can see I took the photo even before the glue had a chance to dry. Life with a little one 🙂
For this one I used the Olive, Lipstick and Gold pens. I covered the gold with glossy accents to create a clear bubble that accentuates the glitter. I did a quick airbrushed background and assembled. Quick, easy and oh so glittery!
Enjoy!