Welcome to Stampendous! Rubber Stamps' first official Blog Hop! I am so excited to be included on this amazing Design Team. We just finished all the wonderful samples for the new catalog and just couldn't wait to give you a sneak peek of a few things to see in the NEW January 2011 Catalog. Here's your chance to see some really wonderful projects from BOTH the October 2010 Valentine, Easter, Spring Catalog (just uploaded to STAMPENDOUS for your purchasing pleasure) and the January 2011 Catalog premiering at CHA at the end of this month (soon to be available in your local store for your wish list making pleasure). We're so excited you can join us! There will be four prizes drawn at random from the eligible hoppers… Stampendous! will give away two of the cute Busy Bunnies sets from the October Catalog and two "to die for" flower sets from the January Catalog! All blog hoppers who comment on ALL the blogs will receive an email with a really cute bonus project and directions!! See rules below.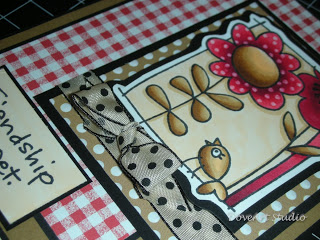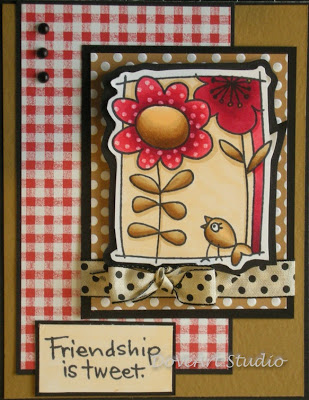 W061 Cupcake XL in wood mount, or CRW061 Cling Cupcake XL in cling mount.
Being released at CHA at the end of the month, this irresistible, yummy, very large cupcake! I fell in love the moment I saw it. I have colored it at least 10 times since I recently obtained this cling foam stamp. I just can't get enough. Those taking my classes will be able to play with this image…aren't you lucky!! Put this stamp on your wish list!
Here are the Official Rules:
1. Start the hop at the Stampendous! blog
then hop through all the Design Team blogs. If you arrived here at my blog first, take a quick hop backwards to the Stampendous! blog.
2. Make sure to leave a comment on EACH Design Team Members' post.
3. We will pick 4 random winners from all the comments left at all the sites. You must comment on EACH site to be eligible.
4. You have until Monday, January 10th at midnight EST to hop and comment.
5. Winners will be picked and notified on Wednesday, January 12.
6. We can't mail prizes internationally, but if you want to join the hop we will email you the cute project.
7. Have fun!
DT Blog Addresses in Hopping Order:
Start Here STAMPENDOUS! Blog
Jennie http://just4funcrafts.blogspot.com/ You are HERE
Wendy http://paperinkandsmiles.blogspot.com/
Rachel http://gingerbreadgallery.blogspot.com/
Cyndi http://scrappychickcyndi.blogspot.com/
Kimberly http://kimberly-crawford.blogspot.com/
Pam http://1pamperedstamper.blogspot.com/
Happy hoppin', and best of luck!
Jennie Dove