Listen up…I am doing you a favor.  If you don't start on those Christmas cards soon you will be working like crazy a month before (if you have time).  You know that moment when someone hands you a card and you weren't expecting it?  Well, now you can run to your craft table and grab one to give back.  You know we have all been there!  Awkward moment!
Creating this Card:
Here is another fabulous stamp set, sold through Whimsy Stamps, by illustrator Dustin Pike.  You must check out the whole stamp line.  He is fabulous.
For this card I used the inside portion of the Wonky Windows 4 die.  Before I cut it out and popped them up, I stamped it using the Snow Flurry background rubber stamp.  I love creating my backgrounds, and it is made easy with all the color choices in the Catherine Pooler stamp pad collection.
The images on this card were all colored and hand cut out.  I decided for this card to color up the gum balls and add them to the empty globe.  It is super neat to add the different objects in the empty globe to go with the theme you want
This card requires a bit more coloring and time, but the end results are so fun!
No Peeking Mice clear stamps

Snow Flurry rubber stamp background

Wonky Windows 4 die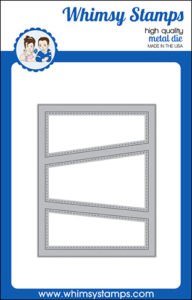 Catherine Pooler Ink

Copics:
W1 W3 W5 W7 R11
B00 B02 B05
R14 R24 R27 R29
C1 C3 C5 C7 C9
YR04 YR09
V15 V17