Everything about this frog says "crazy" to me, so I thought I would treat the frog a bit crazy.  I chose to cut him out and put him inside the shaker portion of the card, so he shakes around amongst the confetti.  This card is sure to bring a smile.  Who can resist shaking a shaker card?  No one ever!  This card gives a new meaning to there word F-U-N!
Creating this Cards:
Let's talk about the making of this fun card.  I started out creating the swirly background by stamping on colored cardstock with the Scribbles slimline rubber background stamp.  This piece is the underside of the shaker portion of the card.  I created a frame for the shaker using the Wavy Pierced Rectangles die.  You do this by putting two of the dies together and running it through the die cut machine.  A piece of acetate was adhered to the back of the frame to hold the shaker material from This Calls for Confetti, sold through Whimsy Stamps.  I added a pile of confetti, and the silly frog on top of the Scribble background.  Using foam tape, I popped up the frame over the frog and confetti.
This shaker frame was adhered to the card base.  I colored up the rocks and cattails from the Toadally Awesome stamp set, and hand cut them out. These were used to create interest to the bottom of the frame as well as give the appearance the frog is in a pond.  I had some foliage (discontinued item), and after die cutting them out and coloring them, they were also added to the card.
The last thing was to die cut the "Crazy", color it using markers and adding it to the card.
Toad-ally Awesome clear stamps
Wavy Pierced Rectangles die

Crazy Word die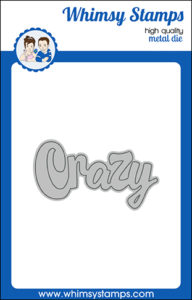 Scribbles Slimline rubber background stamp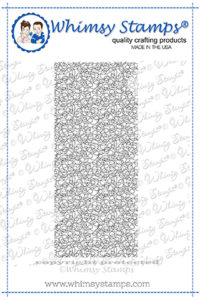 St Patricks Day Confetti Mix

Copics
YG03 YG17 YG67
C1 C3 C5
E31 E27
BG32 BG15 BG49