Is someone you know graduating?  This new stamp set from Whimsy Stamps will be a perfect way to let them know that you are proud of their accomplishments.  This stunning stamp set has a handful of images that will work perfectly for this special occasion.  Being that there is always someone graduation something, it makes this set timeless, and always nice to have on hand.
Creating this Card:
I didn't spend a lot of time coloring this image, just some quick blending, and then hand cut it out.   I added a double border using the Upon a Star die cut with both white and blue cardstock, and then layered it over the blue dot pattern paper from the Mix and Match paper packet.  The OMG! die was a perfect feature, and went well with the "congratulations" from the stamp set.  To finish it off I added the featured images to the OMG! sentiment, and popped it up off the front of the card.
Be sure and check out the WHOLE RELEASE HERE.
Congratulations clear stamps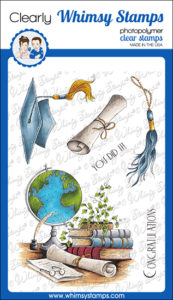 OMG! Word and Shadow die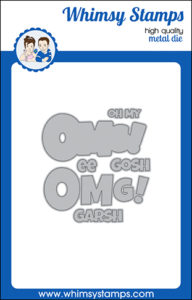 Upon a Star die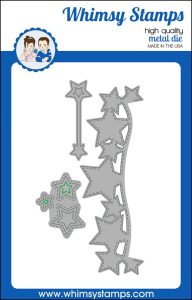 Mix n Match – 1  6×6 paper pack

OLO cOLOrs
B4.3 B4.6 B4.7
YO2.2 YO2.3 YO2.5 YO2.7