Are you feeling oh, so lucky? Or would that be OLO lucky!  So, are you?  I know I am!  Just using 5 prototype OLO green markers (and a few brown Sketchmarker Brush Pro) I created this mug of green beer. I had 5 green OLO prototype markers to play with for this fun piece, and am getting so excited to get the whole OLO 128 color alcohol ink set in July.  Be one of the lucky ones by getting in on the "founder" deal that is going on until the 31st of March (while supplies last).   Check out the links and details below.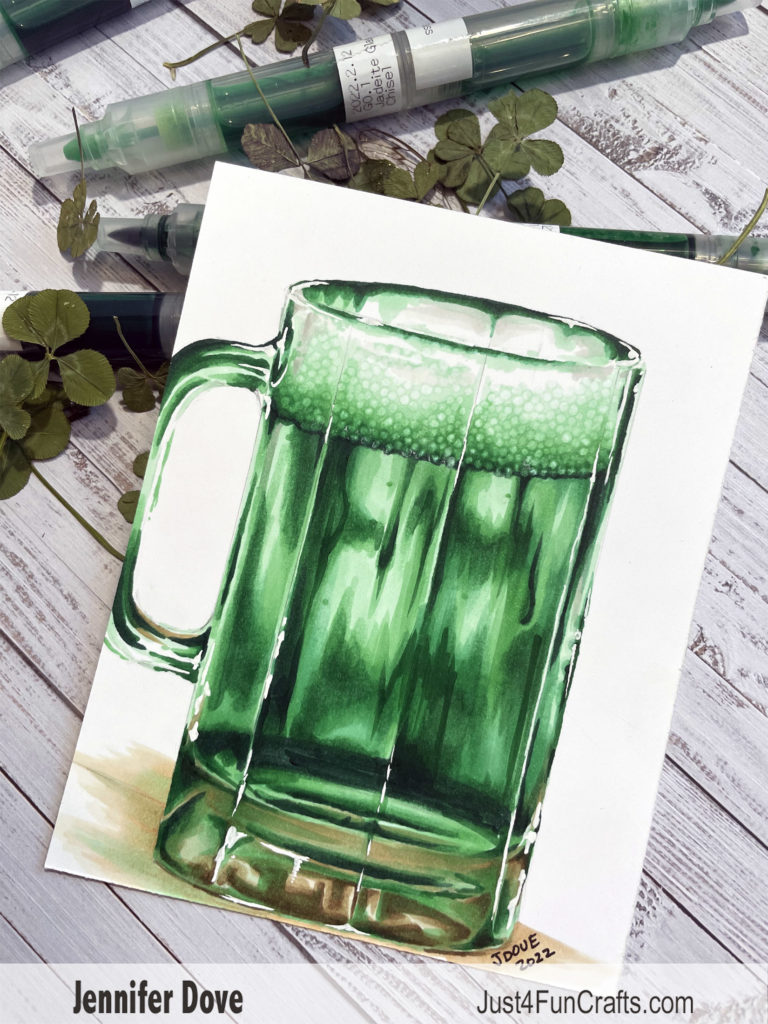 Time is almost out, and I don't want you to miss out on this deal.  For the price of the "Platinum deal" you get a bonus of a whole set of refills, plus some more goodies with it.  That's a $320.00 value in of itself.  On top of that deal, you get a lifetime 15% off when reordering. You can check out the different introductory levels using the links below.  I personally ordered the brush/brush choice when choosing my personal customizable marker option.
MORE DETAILS ABOUT OLO HERE


OLO Website
I thought I would draw up a mug of green beer.  Yes it is a thing, and just in time for St. Paddy's day too.  And while you are looking at the little piece of artwork, every one of those clovers in the photo are a 4, 5, or 6 leaf clover…yes, that WAS a lucky day.  I am excited to pass on my luck to you.  I encourage you to take the plunge with the NEW OLO markers that will be shipping to your doorstep in July.  Yes, Christmas can be in July!
While I am babbling, did you know green beer was an American thing, not an Irish thing?  Back in 1914 an American physician decided to put a tad bit of laundry whitener called "wash blue" into his guests beer in order to turn it green.  Luckily this poisonous dye substance didn't make his guests sick as it was such a small amount.  Now you know.  Happy St. Patricks day!
OLO Markers:
G0.1, 0.4
G1.4, 1.7, 1.8
Sketchmarker
GG7, 6, 5
BR65, 64, 63
BR84, 93, 92, 91