Time for another fun Whimsy Stamps release!  I have been totally out-of-sorts lately, and haven't had time to work with the last 3 Whimsy releases.  I am currently full-on in the Jenn Dove's Boot Camp mode, and their is just no time to play!  UGH!  But with that being said I am also designing, and prepping for the October and November card classes at The Paper Collage in Arizona.  No time to rest!!
Here is a "latte sweetness" to share for the November class, and is a fun way to welcome in the fall season.  I am doing a class for the "gifted"…I mean a gift card class.  More sneak peeks coming soon, but this card just happens to be using a stamp from the latest release.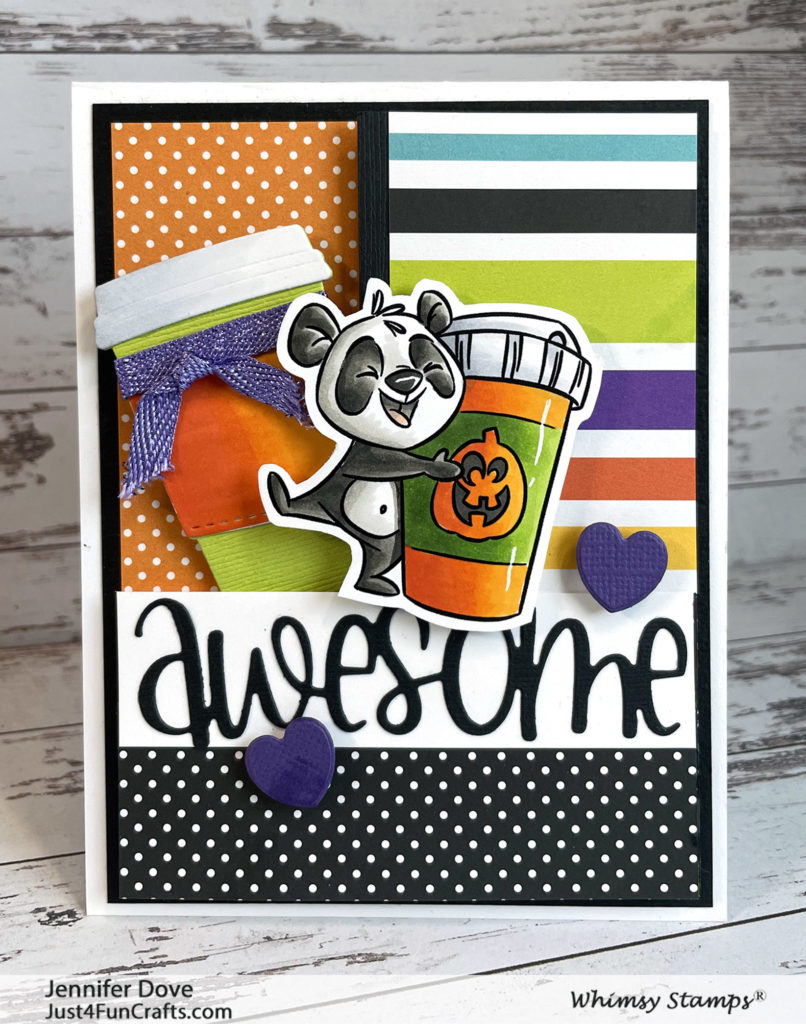 Sample of Inside of card:

The card base was created by cutting two pieces of cardstock 4 1/4 x 7.  Score each piece at 1 1/2 inches and fold.  Place adhesive on three sides, (shortest flap piece, on the fold edge and two outer edges), and adhere to the other short flap.  This creates the card base with the inside of the card having an open tab.  You can slip a little gift card for your favorite place in the opening.  Cool huh…my friend Lois gave me this fun idea…now I am passing it on to you.
Creating this Card:
I created the to-go coffee cup using the Coffee Cup die, and then wrapped a sparky ribbon around the top, and then popped up off the colorful card base.  After coloring up the cute Panda from Pumpkin Spice Panda clear stamp set, I hand cut it out and added it to the card.
I think every card needs a sentiment, so I decided to use the Awesome Large Word die for this card.  You can find all the fun things on this card at Whimsy following the links below.
Pumpkin Spice Panda clear stamp

Awesome Large Word die

Coffee Cup die set

Copic Markers:
W1 W3 W5 W7 R11
YG03 YG17 YG67
C1 C3
Y38 YR07 YR09