Can you handle just one more shark card?  I am sure this won't be the last, but for now I am going to get working on some other fun themes.  All these cards should give you enough inspiration to jump on board…get it…"board"?  This shark is peeking out of a plank.  TeeHee!  I just love these stamps!
Creating this Card:
Check out all the great products I used in the making of this card.  Let's start out with the fabulous Lookin' Shark clear stamp set and the complimenting outline die set.  For this card I chose the side view shark, although they all will work for what I created.  The shark was colored and cut out, and then set aside.  Next I stamped and colored the wood plank from the Lookin' Shark Elements stamp set, and then die-cut it out, including the center of the plank with the Elements die set.
The shark was slipped in the plank opening.  Using foam pop up tape, I placed the shark and plank over the La-La Land Crafts amazing Fishing Net.  I just love this net, and how well it cuts out.  I placed these layers on some pattern paper, and then added a sentiment.  The little fish are from the Elements set, and also have outline dies to cut them out.  The last thing was to add Nuvo drops.  I chose Ripened Pumpkin to match the fun little fishies.
You do realize that the plank can be used for things other than ocean themes right?  How about coloring up some mushrooms or a cute little animal and have them coming out of the opening.  Just a thought.
Lookin' Shark clear stamps
Lookin' Shark outline dies
Elements – Lookin' Shark clear stamps
Elements – Lookin' Shark outline dies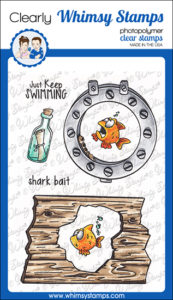 La-La Land Crafts – Fishing Net die
Nuvo Drops – Ripened Pumpkin


Copic Markers:
BV20 BV23 Bv25 BV29 YG11 R11 shark
C1 C3 C5 eyes