Hey chum, it is time for the most killer release of all times.  There was no floundering about when I saw this NEW Lookin' Shark clear stamp set and dies from Dustin Pike, and I have at least 4 cards to share with you using these two stamp sets over the upcoming days.  You are going to be fishin' you owned them, and you can if you swim quick.
Creating this Card:
Wether you are a fan of sharks or not, this set is sure to give your friends a giggle.  The stamps and dies can be used on their own, or combined with so many other stamps, but for this card I thought I would showcase them together.
After coloring and die cutting one of the sharks from Lookin' Shark clear stamps, and the port hole from Lookin' Shark Elements, I combined them together.  I love how the stamp sets come with outline dies which make this so easy to mix and match.  I wanted to create a subtle but textured complimenting background so I stamped the Burlap background onto gray cardstock, using black ink.  This layer was then die cut out to look like waves with the Kinetic Straight Waves die set.  Using the negative of one of the waves I created the simple cloud.
Wanting a little cluster of something to balance the card out, I added some seaweed from Build and Ocean, along with the note in a bottle from the Elements stamp set.  Great way to FINish, don't you think?
Be sure and get those cards made before Shark Week, July 11 through July 18, because I would love to see all the fabulous cards that are created during this time frame.  Let us represent!
Lookin' Shark clear stamp set
Lookin' Shark outline die
Elements – Lookin' Shark clear stamp
Elements – Lookin' Shark outline die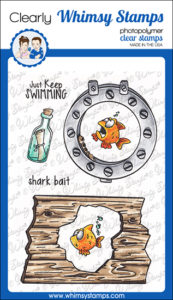 Burlap background rubber stamp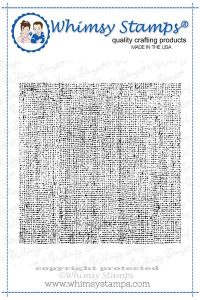 Kinetic Straight Waves die set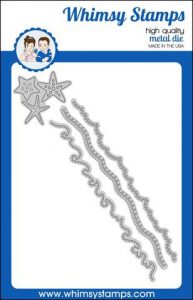 Build an Ocean die set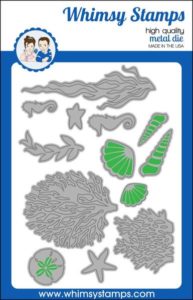 Copics:
C1 C3 c5 C7
BV20 Bv23 Bv25 BV29 R11 RV00
BG11 BG13