…And what a base it is!  For all you long-card-lovers out there, this #6 Concertina die is TOTALLY RAD! (Did I just date myself?).  Using this tall and slim style die allows for some fun options, and I created both a #6 and a #10 size so easily.  I just had to show you how they turned out.  This die from The Stamp Doctor cuts beautifully, and the layers are a fun stitched edge.  The Stamp Doctor does recommend a large format machine to die cut this out with, but I must admit I very carefully used my Big Shot and an extended plate and platform and it worked fine.  My disclaimer is that there is not much room for error…so keep that in mind.
Creating this Card:
This is the "normal" #6 Concertina card layout.  I thought I would create it using the pinks and yellows from Bizzy Bees 6×6 paper packet, and the same paper packet was also used for the other card below as well.  The cute bear I colored is from Hello Bear clear stamp set, and the set comes with a sweet little hive too.  Using my favorite scallop die from Kinetic Straight basics set, I added the pink edging to the zig zag fold, and the sunshine from Up in the Clouds dies was placed on the upper portion to bring all the colors together.  I chose to not decorate the inside of this card so that there would be a surface to write on.  This set comes with all the dies needed for decorating inside and out, and it also gives the option for the side you can have it open from.
Creating the Card:
For this second card I took it a step further, and created the #10 size.  All I had to do was add a 3 3/8 x 7 3/4 folded card base.  You can also adhere just a single card panel to the back without the fold.  When creating this card all that I used was the base die, and the Bizzy Bees paper packet.  There is a sheet with this cute bear and balloons, so I cut the bear out and used it as the feature for the card.  The sun and clouds were added to make him look like he is up in the sky.  To finish this card off I created the band closure with the word "hugs" from the Birch Press die line.
I know you are going to want the Concertina Card and Layer dies, so I put the link below.  It is even on sale down from $35.00 to only $25.00 right now.  If you see anything else from The Stamp Doctor that I not on sale, you can use the coupon code JUST4FUNCRAFTS and received 20% percent off your non-sale order.  Now thats a great deal!
#6 Concertina Card | + Layers Dies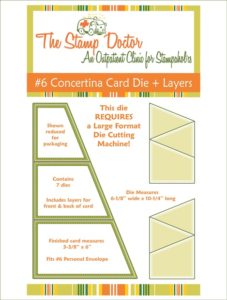 Die measures 6-1/8" wide x 10-1/4" long.
Finished card measures 3-3/8″ wide x 6″ long.
Set contains:
• 1 Card Base Die
• 6 Cut & Stitch Layers (for front & back of the card)
Hello Bear clear stamp
Bizzy Bee 6×6 paper packet
Up in the Clouds die set

Birch Press Hugs die – Simon Says Stamp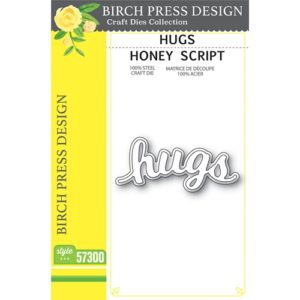 Kinetic Straight Basics die set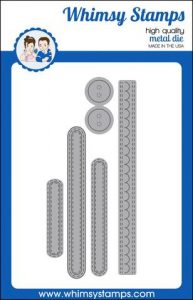 Multipurpose Extended Platform

Magnetic Extended Platform  (this is the one I use)

Extended cutting plates

Sketchmarker Brush Pro colors used:
Coupon Code DOVE15 to get 15% off until July 15 2021
V101 V114 V104 with v123 over top bear
B92 eyes
BR10 BR11 branch
BR11 O53 Y32 hive
NG1 nose